NOTE:
This product is no longer being sold and might not be supported. View the End-of-Life Notice to learn:

End-of-sale and end-of-life dates
What replacement products are available
Information about product support
High-Performance, Memory-intensive Server
Compare C-Series Rack Mount Server Models
View Video About Cisco Extended Memory Technology
UCS C250 M1 Rack Mount Server
Video Data Sheet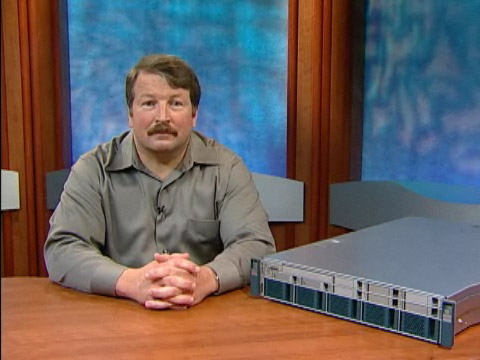 Learn more about Cisco extended memory rack server innovation within industry standards (4:15 min)
Viewing this embedded video requires the latest version of Adobe Flash Player with JavaScript enabled.
Get the Flash Player
View Interactive Model of Cisco UCS C250 M1
The Cisco UCS C250 M1 server is a high-performance, memory-intensive, two-socket, 2RU rack-mount server designed to increase performance and capacity for demanding virtualization and large-data-set workloads. It also can reduce the cost of smaller memory footprints.
The system is built for virtualized workloads in:
Enterprise data centers
Service provider environments
Virtual desktop hosting
The system can also help increase performance for large-data-set workloads, including database management systems and modeling and simulation applications.
Up to two Intel Xeon 5500 Series multicore processors
Up to 384 GB of industry-standard double-data-rate (DDR3) main memory (48 dual in-line memory modules [DIMMs])
Up to eight internal small form factor (SFF), (SAS), or (SATA) drives; up to 4 TB total
RAID 0 and 1 support for up to eight SAS or SATA drives through optional PCI Express (PCIe) controller; and RAID 0, 1, 5, 6, 10, 50, and 60 support for up to eight SAS or SATA drives with optional LSIMegaRAID adapter
Support for up to five PCIe cards in three low-profile, half-length x8 and two full-height, half-length x16 slots
Four integrated Gb Ethernet ports and two 10/100 Mbps Ethernet management ports for accessing the Cisco UCS Integrated Management Controller
Front-panel interface with video, two USB, and serial port connections. Back-panel video, two USB, and serial port connections
Increased reliability, availability, and serviceability through optional dual-redundant power supplies and front panel-accessible hot-swap cooling fans
Compare network adapter cards for the Cisco UCS C-Series Rack-Mount Servers
Additional Resources
Data Sheets and Literature