Address the App Gap
Experts and customers share benefits from new application experience platforms.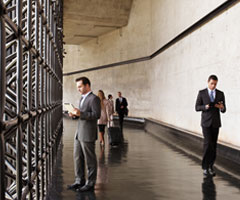 Address the App Gap
AVC Solution Demonstration
Close
Viewing this video requires the latest version of Adobe Flash Player with JavaScript enabled.
Optimize Application Traffic
Cisco Application Visibility and Control (AVC) solution is a suite of services in Cisco network devices that provides application-level classification, monitoring, and traffic control to improve business-critical application performance, facilitate capacity management and planning, and reduce network operating costs. The Cisco AVC solution is provided within the Cisco Integrated Services Routers Generation 2 (ISR G2), Cisco ASR 1000 Series Aggregation Service Routers (ASR 1000s), and Cisco Wireless LAN Controllers.
The Cisco AVC Solution helps you:
Identify and classify over 1,000 applications
Monitor basic flow statistics, response time, latency, jitter, and other performance metrics by application
Export application performance metrics to your network management software using NetFlow version 9 or IP information export
Set different QoS priorities based on application
Dynamically choose network paths based on performance
Benefits include:
Improved quality of user experience through application-aware network optimization and control
Better network capacity management and planning through greater visibility of application usage and performance
Lower operating costs through integrated solution available for branch, WAN aggregation, and Internet edge
Faster troubleshooting and less network downtime
Featured Content
A&E Firm Helps Ensure Priority Handling for Critical Apps
French Service Provider Invests in Cisco Cloud Control
Cisco ISR G2, ASR routers with AVC anchor SFR Business Team's Application Visibility Service.
Cisco Application Visibility and Control At-A-Glance
Increase your understanding of the AVC solution and its benefits.
Cisco AVC Q&A
Learn the answers to frequently asked AVC deployment and management questions.
Cisco AVC Video Data Sheet
Close
Viewing this video requires the latest version of Adobe Flash Player with JavaScript enabled.
Links