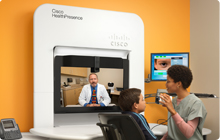 Media Options
Next Steps:
Increasing Efficiency of Mobile Clinicians
Challenge
Increase productivity and efficiency for mobile clinicians and improve patient experience with a 24-hour nurse line.
Solutions
Cisco Unified Communications Manager and wireless phones, integrated with nurse-call and clinical systems, WebEx, and TelePresence.
Results
Increased time available to home nurses for patient care
Optimized nurse-line staffing to provide an excellent patient experience
Halved operational costs of voice system, saving US$500,000 annually
---
Home-nursing teams meet regularly to discuss procedures, and with WebEx they can now meet from the field instead of taking time away from patient care to drive to the office.
Manager of Infrastructure Group, Evergreen Hospital