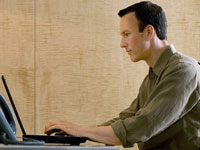 Create highly secure virtual workspaces in remote locations by using a range of endpoints. Help your employees work from satellite offices or home offices, or when they are traveling.
Cisco Collaboration technology offers built-in support for high-quality video, voice, social media, and data access. Your employees get highly secure access to all the resources, applications, and files that they would have in the main office.
See More Use Cases
Explore more ways to meet your business goals by improving collaboration.
Go Now
Benefits
Integrate cross-functional responsibilities to simplify collaboration, no matter where people are.
Locate employees and branch offices to best support customers or access talent pools with specific expertise.
Reduce employee travel, real-estate costs, and greenhouse gas emissions.
Improve talent by removing geographic restrictions in hiring.
Create flexible versus dedicated workspaces for employees who are not regularly in the office.
Increase executive reach and corporate alignment.
Help maintain communications security.
Proof Points
65 percent of companies say that telecommuters are more productive because of the flexibility to work when they have the most focus and/or control over the work environment. (Source: Ipsos)
44 percent of Cisco knowledge workers telecommute at least once a week. (Source: Cisco Internet Business Solutions Group)
Employees who telecommute once a week save Cisco $2,500 per employee annually. (Source: Cisco IBSG)
One employee teleworking half-time can save a company about $10,000 per year and can save the employee up to $6,800 per year. (Source: Telework Research Network)
Primary Products for Use Case

Recommended for Best Practices
To strengthen its innovation culture, Virgin Media launched a flexible working initiative. The idea was to provide easy-to-use collaboration tools that would enable employees to work from any office or from home, supporting the growing number of devices and increasing the value of the company's people, property and technology.
"Now nobody ever needs to say to a client, 'I can give you an answer when I get back to the office.' " –Mike Fitzgerald, Eagle Investment Systems
Based on a project's requirements, Persistent Systems assembles a team of experts who might be from any of the organization's nine development centers on three continents. (PDF - 184 KB)
Architecture
Consumer Electronics
Distribution
Education
Government and Public Sectors
Healthcare
Retail
Sports and Entertainment
Technology
Cisco IBSG Horizons BYOD and Virtualization Study
Cisco Internet Business Solutions Group (IBSG) surveyed 600 enterprise IT leaders for insight on bring-your-own-device (BYOD) and desktop virtualization trends in U.S. enterprises.
Design Guides
Simplify deployment of Cisco technologies
Improve team and customer experiences with services from Cisco and its partners. Align your IT objectives with business goals, mitigate risk with faster time to value, and better serve your customers.