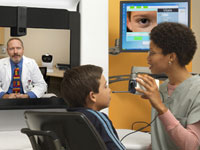 Identify, locate, and connect with experts for advisory services whenever and wherever you need them using high-quality audio and video for a compelling communications experience.
Combine Cisco endpoints optimized to facilitate in-person interaction with network-based directory, presence, and collaboration capabilities. This helps organizations share expertise efficiently with customers, employees, and partners.
See More Use Cases
Explore more ways to meet your business goals by improving collaboration.
Go Now
Benefits
Simplify the ability to identify subject-matter experts and quickly contact the most available resources through employee directories with expertise tagging and presence capabilities.
Create a virtual pool of experts and specialists, whether they are co-located or dispersed globally.
Help ensure effective collaboration by interacting with experts instantly in a personalized, easy-to-use, virtualized, face-to-face manner.
Increase teamwork by making employees easily accessible to shorten decision times and avoid duplication of work.
Proof Points
The conversion rate of an interaction between a subject-matter expert and a potential customer using both audio and video is greater than 90 percent; audio only is 50 percent. (Forrester)
Cross-sales increased from 1.4 to 2.5 products per customer with video in the interaction instead of audio-only capabilities. (Forrester)
70 percent of customers will choose alternative companies if an expert is not present when they make an initial product inquiry. (Forrester)
Primary Products for Use Case

Recommended for Best Practices

Optional

Hosted Solutions
"Customers no longer consider banking to be single-channel. They expect more control over how and when they choose to access our services, including financial experts and advice." —Paul Dilda, Bank of Montreal
"Faster response time and skills-based routing creates an excellent user experience, contributing to Hilti's reputation for quality. " —Wolfgang Speckle, Hilti Corporation
ANZ Private & ANZ Trustees is taking advantage of innovative technology to differentiate and deliver unique and superior service to clients who can now virtually tap into the deep experience of a team of experts located nationwide and globally.
Education
Healthcare
Manufacturing
Financial Services
Solution Overview
White Papers
Video
Design Guides
Improve team and customer experiences with services from Cisco and its partners. Align your IT objectives with business goals, mitigate risk with faster time to value, and better serve your customers.