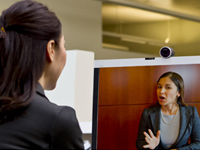 Broadcast live online events, meetings, and seminars for employees, customers, and partners. Offer live and on-demand training that facilitates distance learning for individuals, groups, and large communities.
Cisco provides a high-quality event experience with optimized video, audio, and participation options. Live attendees can participate anywhere without travel, and virtual attendees can enjoy high-quality recordings with additional viewing options.
See More Use Cases
Explore more ways to meet your business goals by improving collaboration.
Go Now
Benefits
Reach more people with remote attendance to company events, department meetings, and training.
Integrate polling, Q&A, and commenting into large-scale meetings to improve participant engagement.
Help enable speakers, experts, and attendees to participate in person and virtually from anywhere.
Improve learning through two-way interaction using video, chats, and polls.
Monitor audience attention, content retention, and social media comments.
Proof Points
According to an Aberdeen Group study, companies that used video for training increased employee productivity by 4 percent and reduced voluntary turnover by an average of 7.7 percent over 12 months.
Among senior executives, 80 percent watched more video between 2010 and 2011, and the majority watched work-related videos. (Source: Forbes Insights)
Video clips under 5 minutes resonate best with executives.
Emphasis on organizational openness is 30 percent higher among outperforming organizations. (Source: IBM 2012 CEO Study)
Primary Products for Use Case

Recommended for Best Practices

Optional

Hosted Solutions
In just two years, Wall Street English's online training service attracted more than 8500 students. In monthly surveys, students rate the online courses as extremely helpful.
"Our sales seminars, program releases, and other events are a huge part of our business. WebEx is simply the best platform we've found for keeping travel agents informed." —J. Martin, Princess Cruises.
"We use WebEx for classes, but also for large online student orientations, information sessions, and other marketing and recruitment events." —Dominic K. Lau, University of Southern California.
Retail
Education
School Uses Video for Worldwide Learning
Pymble Ladies' College in Australia uses video for global learning and collaboration.
Video for Everyone, Everywhere (Video - 3:12 min)

West Texas A&M University deploys video to make learning more accessible.
Aberdeen: The ROI of Video Collaboration (PDF - 307 KB)
Video collaboration usage patterns of more than 380 organizations provide an understanding of how companies gain business value from video deployments in sales, marketing, service, product development, and project management.
Next-Generation Events: Cisco Experience and Best Practices (PDF - 6.8 MB)
Cisco has been a leader in creating highly successful online events via virtual event platforms that support live video, live chat and moderated Q&A, on-demand replays, social networking. and content management.
Improve team and customer experiences with services from Cisco and its partners. Align your IT objectives with business goals, mitigate risk with faster time to value, and better serve your customers.