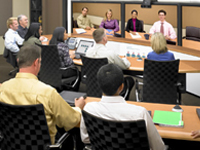 Improve communications, relationships, and productivity by helping people meet face-to-face over distances to:
Share content
Consult with experts
Deliver personalized services
Cisco provides one of the industry's broadest portfolios of purpose-built, high-quality video solutions, from the desktop to the conference room and beyond to third-party systems.
Benefits
See More Use Cases
Explore more ways to meet your business goals by improving collaboration.
Go Now
Next to a face-to-face meeting, video is the most natural way to communicate.
Experience greater connection with remote team members through regularly scheduled and ad hoc telepresence meetings for strategic planning, risk management, regulatory compliance.
Build trust and understanding across time zones within cross-functional and diverse teams through rich and frequent video communications.
Accelerate time to market with more face-to-face brainstorming in R&D
Enhance communication and help build trust between people in ways that traditional document-based tools cannot
Proof Points
Among business leaders, 53 percent strongly agree that video promotes more productive relationships with colleagues, clients, and suppliers. (Source: Economist Intelligence Unit)
Companies that are considered leading users of video report 120 percent quantitative ROI for video implementations. (Source: Aberdeen Group)
Collaboration implementations with video improve ROI by up to 5 times. (Source: Aberdeen Group)
Among decision makers, 45 percent strongly agree that video saves time and 35 percent agree that video saves money. (Source: Economist Intelligence Unit)
Primary Products for Use Case

Recommended for Best Practices
"Using WebEx technology, we've been able to qualify 25 percent more leads and convert more prospects into clients. We can be more selective deciding when, and if, we need to travel. In fact, WebEx technology has helped us cut our travel spending by 30 percent." —Jay Pace, Kinetic Securities
Instead of everyone travelling once a month for meetings, Great Ormond Street Hospital's board members now meet over Cisco TelePresence.
Cisco WebEx facilitated and enhanced communications and collaboration among widely dispersed knowledge workers, yielding an 18 percent increase in knowledge-worker productivity at Toyota Motor Corporation.
Education
Financial Services
Government and Public Sectors
Aging Well in the Netherlands (PDF - 627 KB)
The City of Almere tested innovative video services to extend the social and economic participation of older citizens.
The ROI of Video Collaboration (PDF - 307 KB)
Aberdeen Group studied the video collaboration usage patterns of more than 380 organizations to understand how companies gain business value from video deployments in sales, marketing, service, product development, and project management.
Cisco Validated Designs and Design Guides
The Cisco Validated Design Program consists of systems and solutions that are designed, tested, and documented to facilitate faster and more reliable customer deployments.
Improve team and customer experiences with services from Cisco and its partners. Align your IT objectives with business goals, mitigate risk with faster time to value, and better serve your customers.