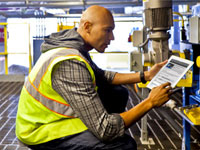 Increase staff productivity and customer responsiveness by supporting bring-your-own-device (BYOD) access. Make it easier for employees to use personal or company-issued mobile devices as a highly secure extension of your enterprise network and applications.
Cisco provides native support for all leading smartphones, tablets, and laptops in a highly secure, policy-controlled manner. Your users get a consistent, productive user experience anywhere, anytime.
See More Use Cases
Explore more ways to meet your business goals by improving collaboration.
Go Now
Benefits
Increase employee engagement and productivity with better information access and more collaboration opportunities
Improve customer responsiveness with quicker access to experts and information
Help maintain communications security through policy control on corporate applications and information
Improve job satisfaction and workforce retention by providing more flexible work options and supporting better work-life balance
Lower IT and capital costs by making it easy for employees to use their own devices
Reduce support costs through employee self-management of application deployment and maintenance
Proof Points
Organizations can save 25 percent annually per user with employee-owned devices compared to the TCO of company-owned devices.
Annual benefits of BYOD can range from $300 to $1300, depending on the employee's role and work requirements. (Cisco IBSG)
Employees accessing work on mobile devices can increase productivity by 30 minutes each day. (Cisco IBSG)
Research from Forrester shows that among organizations that implement BYOD strategies:

76 percent report increased employee responsiveness and decision-making speed.
Nearly 60 percent report faster internal-issue resolution.
43 to 46 percent report faster customer-issue resolution and improved customer satisfaction.
Primary Product for Use Case

Recommended for Best Practices

Optional

Mid-Market Options

Hosted Solutions
"Now nobody ever needs to say to a client, 'I can give you an answer when I get back to the office.' " —Mike Fitzgerald, Eagle Investment Systems
"Making it easier for employees from different departments to work together side-by-side on their own devices, anywhere on campus, is a big step forward in promoting greater productivity and better delivery of government services." —Eric Bish, City of Amsterdam (Netherlands)
Students at Wake Forest University can join classes and meetings from wherever they are, whenever they choose, and on whatever device they have. This fosters greater collaboration, and a more enriching teaching and learning experience.
Education
BYOD Solution for Education
Educational organizations now must accommodate a growing number of students, employees, contractors, and parents who expect to connect to networks regardless of who owns the device.
Wireless LAN Design Guide for High-Density Higher-Education Environments (PDF - 1.7 MB)
Engineering guidelines and practical techniques for designing, planning, and implementing a WLAN within a high-density campus environment. High-density is defined as any environment with a large concentration of users where the users are connected wirelessly, sharing applications and using other network services individually.
Government and Public Sector
BYOD Solution for Government
Highly secure Cisco BYOD solutions offer personal device freedom, without sacrificing IT control.
Mobile Collaboration in the Public Sector (PDF - 452 KB)
Public sector workers in the field need access to the same voice, video, and web collaboration tools as in the office. But consumer-grade tablets and videoconferencing services lack the required security, reliability and interoperability.
Cisco IBSG Horizons BYOD and Virtualization Study
Cisco Internet Business Solutions Group (IBSG) surveyed 600 enterprise IT leaders from 18 industries for insight on bring-your-own-device (BYOD) and desktop virtualization trends in U.S. enterprises.
Cisco BYOD Smart Solution
The Cisco BYOD Smart Solution provides a comprehensive approach to effectively design, manage, and control the access of a BYOD network.
People-Centric Collaboration (Video - 3:37 min)
See how Cisco Collaboration helps a team plan faster using real-time video interaction from any device and any location.
This overview includes the following videos about Cisco Jabber:
Instantly Interact with IM and Presence (1:31 min)
Enjoy Business-Class IP Voice and Video Telephony (1:27 min)
Communicate from Microsoft Office (0:59 min)
Get Mobile Collaboration - Anywhere on Any Device (2:03 min)
Communicate from Within Web Applications (5:14 min)
Cisco Jabber for Team Performance
Platform Demos
Infographic: The Everywhere Employee
Design Guides
Improve team and customer experiences with services from Cisco and its partners. Align your IT objectives with business goals, mitigate risk with faster time to value, and better serve your customers.