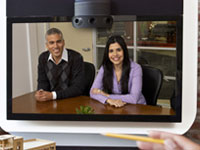 Use web conferencing to allow employees, customers, and partners to attend meetings anytime, from anywhere, with data sharing and high-definition audio and video.
Cisco WebEx is the market-leading web-conferencing service. It provides a productive, highly secure experience across devices, locations, and organizations with minimal disruption to your existing IT operations.
Benefits
See More Use Cases
Explore more ways to meet your business goals by improving collaboration.
Go Now
Accelerate decision making by reducing communications delay.
Reduce employee travel, real-estate costs, and greenhouse gas emissions by meeting virtually and supporting flexible work locations.
Build trust and understanding across time zones within cross-functional and diverse teams with interactive, frequent video communications.
Encourage participation, information sharing, and knowledge building.
Improve talent by removing geographical restrictions in hiring.
Proof Points
Telepresence could replace up to 70 percent of internal travel over the next 10 to 15 years, cutting corporate travel costs by 21 percent. (Source: Bernstein)
Companies can get a five-year ROI of about 140 percent and payback from travel and operational cost savings within 24 to 41 months. (Source: Salire)
Collaboration business cases that include a video component improve ROI by up to five times. (Source: Salire)
According to 77 percent of respondents in a McKinsey survey, collaboration technologies improve speed of access to knowledge
Aberdeen Group reports that best-in-class users of video saved more than 17 percent in travel costs in 2010.
Primary Products for Use Case

Recommended for Best Practices

Optional

Hosted Products
More than 4000 Virgin Media employees are active meeting hosts, and each month more than double that number join WebEx sessions, whether between offices, from home, or while travelling.
"We found that leveraging TelePresence in the supply chain would help us to take weeks, even months, off time to market, which could result in millions of pounds of additional revenue." Richard Oates, Kingfisher
Vistaprint's employees use Cisco WebEx for meetings as well as impromptu web collaboration. For example, a Lexington-based graphics designer might share the desktop with a colleague in Barcelona to discuss how to adjust a color hue.
Architecture
Education
Financial Services
Government and Public Sector
Healthcare
Retail
Technology
Aberdeen: The ROI of Video Collaboration (PDF - 307 KB)
Aberdeen Group studied video collaboration usage patterns of more than 380 organizations to understand how companies gain business value from video deployments in sales, marketing, service, product development, and project management.
Improve team and customer experiences with services from Cisco and its partners. Align your IT objectives with business goals, mitigate risk with faster time to value, and better serve your customers.