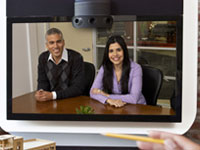 With web conferencing, employees, customers, and partners can attend meetings anytime, from anywhere, with data sharing and high-definition audio and video.
Cisco WebEx is the market-leading cloud-based web conferencing service. It provides a productive, highly secure experience across devices, locations, and organizations with minimal disruption to your existing IT operations.
Benefits
See More Use Cases
Explore more ways to meet your business goals by improving collaboration.
Go Now
Accelerate decision making by reducing communications delay
Reduce employee travel, your real-estate costs, and greenhouse gas emissions by meeting virtually and supporting flexible work locations
Build trust and understanding across time zones within cross-functional and diverse teams with rich and frequent video communications.
Encourage participation, information sharing, and knowledge building
Build trust and understanding and develop relationships with employees, partners, and customers
Improve talent by removing geographical restrictions in hiring
Proof Points
Telepresence could replace up to 70 percent of internal travel over the next 10 to 15 years, cutting corporate travel costs by 21 percent. (Source: Bernstein)
Companies can get a five-year ROI of about 140 percent, and payback from travel and operational cost savings within 24 to 41 months. (Source: Salire)
Collaboration business cases that include a video component improve ROI by up to 5 times. (Source: Salire)
According to 77 percent of respondents in a McKinsey survey, collaboration technologies improve speed of access to knowledge.
Aberdeen Group reports that Best-in-class users of video saved more than 17 percent in travel costs in 2010.
Primary Products for Use Case

Recommended for Best Practices

Optional

Hosted Products
Cisco WebEx facilitated and enhanced communications and collaboration among widely dispersed knowledge workers, yielding an 18 percent increase in knowledge-worker productivity at Toyota Motor Corporation.
"Travel is no longer a bottleneck in carrying out our projects... Our clients know that we can maintain frequent contact with them, without time or distance being a barrier." - James R. Brogan, AIA, Kohn Pederson Fox Architecture
"With Cisco collaboration tools, we can spark a conversation wherever we are in the world and collaborate the way humans are meant to, which is person-to-person." - Nancy Crouch, CIO, Wake Forest University
Financial Services
Healthcare
Retail
Increase the Return on Your Telepresence Investment (PDF - 354 KB)
Telepresence elevates video communication to a personal level, providing an efficient solution for meetings, training, and simple collaboration across geographical boundaries.
Aberdeen: The ROI of Video Collaboration (PDF - 307 KB)
Aberdeen Group studied the video collaboration usage patterns of more than 380 organizations to understand how companies gain business value from video deployments in sales, marketing, service, product development, and project management.
Improve team and customer experiences with services from Cisco and its partners. Align your IT objectives with business goals, mitigate risk with faster time to value, and better serve your customers.