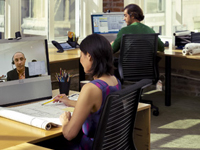 Scale office space usage and create work areas that foster a greater sense of employee inclusiveness, promote informal and formal collaboration, and encourage innovation and teamwork.
Cisco can help your organization use space more effectively. Support various employee work styles by facilitating location-independent work through:
Highly secure virtual access to corporate resources
High-quality video and audio interaction
Support for multiple devices
See More Use Cases
Explore more ways to meet your business goals by improving collaboration.
Go Now
Benefits
Reduce real estate costs, greenhouse gas emissions, and employee travel.
Scale office space use by providing workspace sharing and work-from-home options
Create workspaces that encourage more collaborative working practices, break down communication barriers across people and departments, and speed up decision-making and innovation.
Help employees maintain a work-life balance by giving them the flexibility to work from various locations.
Proof Points
94 percent of leaders at organizations with cloud-collaboration strategies agree that cloud collaboration enables flexible work environments. (Forbes Insight, 2012)
Annual real estate and facilities operations expenses often account for more than 15% of non-compensation operating expenses and up to 8% of total operating expenses. (McKinsey Quarterly, 2010)
Around 60 percent of a company's desks are vacant at one time because workers are either on the road or in meetings. (CoreNet Global)
Supporting mobility can help an organization increase productivity 5 percent to 15 percent, reduce occupancy costs 20 percent to 50 percent, and improve business continuity. (Source: IMFA)
Primary Products for Use Case

Recommended for Best Practices
To strengthen its innovation culture, Virgin Media launched a flexible working initiative. Employees can work from any office or from home, supporting the growing number of devices and increasing the value of the company's people, property, and technology.
Government and Public Sector
Improve team and customer experiences with services from Cisco and its partners. Align your IT objectives with business goals, mitigate risk with faster time to value, and better serve your customers.
Collaboration Services Overview (PDF - 500 KB)
Companies must balance current and future employee and business needs amid expanding mobility capabilities, security risks, and technologies.