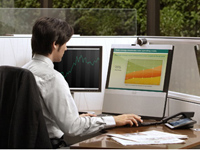 Bring together voice, video, and data into a single IP network to simplify management and support effective communications.
A converged architectural approach uses a single enterprise-class communications platform to support today's network demands as well as new cloud-based services, devices, and applications. Consolidating your communications infrastructure can:
Simplify management
Integrate separate networks
Lower IT costs
Benefits
See More Use Cases
Explore more ways to meet your business goals by improving collaboration.
Go Now
Reduce total cost of IT ownership with a single infrastructure and simplified management
Adapt quickly and flexibly to company changes and increase responsiveness by blending deployment models
Improve access and user experience by supporting mobile work styles and device choices
Substantially reduce operational overhead by using a single call-control architecture for voice, video, and conferencing while still accommodating time-division multiplexing (TDM) or Session Initiation Protocol (SIP)-based systems as needed
Take advantage of flexible deployment models, whether on premises, cloud based, or a hybrid approach
Virtual desktops and simplified scalability, security, and manageability at lower costs
Proof Points
According to IDC, 61 percent of enterprise organizations cite increased productivity as a benefit of consolidating unified communications and collaboration technologies.
The Cisco architectural approach delivers a 13 percent lower TCO compared to competitors' solutions.
Forrester shows that more than half of IT professionals can make a business case for unified communications based on cost savings and productivity gains such as improved collaboration and faster problem resolution.
Primary Products for Use Case

Recommended for Best Practices

Optional

Hosted Products
By moving from Centrex to unified communications, Stanford Federal Credit Union reduced overall telecom costs by 60 percent. Operational improvements include the ability to add new users in a matter of minutes.
It takes the JW Marriott Marquis far less staff time to manage a converged network than hotels with multiple networks. As a result, the IT team can spend more time assisting guests. The single-vendor solution simplifies support.
"Cisco collaboration tools were instrumental in helping us complete 36 IT integration projects on time and under budget to save $190 million through synergies. We exceeded our savings goal by $40 million." —Doug Saunders, Republic Services
Education
Government and Public Sectors
Manufacturing
Coke's New Take on Voice (PDF - 526 KB)
Coca-Cola implemented IP-based voice technology to revitalize its distribution processes and help 3000 warehouse associates in 100 facilities.
Evaluating Unified Communications Solutions
With the convergence of voice, video, and data around a shared IP-based infrastructure, users can easily make a call, send a message, or join an audio or video conference. This is benefiting businesses of every size, industry, and geography.
Unified Communications Total Cost of Ownership Tool
Estimate potential savings implementing Cisco IP-based voice and unified communications solutions. Simply enter information about your current communications system or adjust default industry benchmarks to quantify potential TCO reduction.
Design Guides
Improve team and customer experiences with services from Cisco and its partners. Align your IT objectives with business goals, mitigate risk with faster time to value, and better serve your customers.