Get High Performance BI Today
See how one appliance lets you deploy SAP BWA today and SAP HANA tomorrow.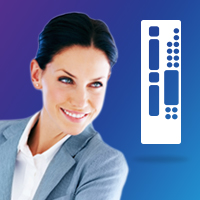 Get High Performance BI Today
Close
Viewing this video requires the latest version of Adobe Flash Player with JavaScript enabled.
Improve Business Intelligence Performance
The Cisco Bridge to SAP HANA is an SAP-certified appliance used to provide cost-effective, high-performance business intelligence. This appliance is unique for two reasons:
It can be implemented as an SAP BWA appliance and transformed into an SAP HANA scaleout appliance, freeing you from having to purchase one appliance for BWA and one for HANA
It includes advanced automation software that reduces the staff effort required to manage it, and it delivers consistent execution of vital procedures, which supports adherence to best practices and higher availability.
The appliance enables companies using BW releases earlier than 7.3 to implement BWA and get the benefits of high-performance in-memory queries now. Then, later when they upgrade to 7.3, their Cisco Bridge to HANA appliance becomes a HANA scaleout appliance, preserving up to 90 percent of their investment.
Each appliance includes Cisco Process Orchestrator software, which reduces downtime by checking hardware components and monitoring CPU, memory, and average index read time and alerting IT when usage nears thresholds. This helps IT rapidly identify, locate, and resolve issues so that high-performance business intelligence remains available to users.
Ultimately, this appliance enables IT to address immediate business demands for high-performance business intelligence queries and reports while IT upgrades its infrastructure for BW on HANA. And it helps the Basis Team by reducing the operation and maintenance load and staff.
Automation for SAP Business Intelligence
Each appliance includes Cisco intelligent automation software with preconfigured workflows that support peak BWA performance while decreasing downtime. Upon transformation to HANA, this comprehensive set of automation capability carries over to the HANA appliance.
Vital procedures that can be automated include:
Data integrity checks, index reorganization, information package error analysis, and services statistics monitoring
Sizing, planning, tracking, and forecasting
Many corrective actions for alerts and optimization
Automation is integrated with the hardware to provide provisioning that prevents service-level interruptions, which enhances business user experience, saves time, and reduces risk.
Specifications at a Glance
This appliance comes in several sizes, but regardless of the size you purchase, each appliance is standardized to include:
Cisco UCS B200 M3 blades with E5-2670 processors
Cisco Process Orchestrator with scripts for BWA and HANA
Cisco Nexus 5000 and Nexus 2000 Series Switches
Cisco C220 Rack Server
NetApp FAS 3240 storage
| Part Number | Chassis | Blades | DDR per Blade | Data Cubes | Persistent Storage |
| --- | --- | --- | --- | --- | --- |
| CBI-SSMT-E1-K9 | 1 | 3 | 96GB | Up to 0.48TB | NetApp 3240 Filer with 1 disk shelf |
| CBI-SSMT-S1-K9 | 1 | 6 | 96GB | Up to 1.2 TB | NetApp 3240 Filer with 1 disk shelf |
| CBI-SSMT-M1-K9 | 1 | 8 | 96GB | Up to 1.7 TB | NetApp 3240 Filer with 1 disk shelf |
| CBI-SSMT-M2-K9 | 2 | 12 | 96GB | Up to 2.6 TB | NetApp 3240 Filer with 1 disk shelf |
| CBl-SSMT-M3-K9 | 3 | 16 | 96GB | Up to 3.6 TB | NetApp 3240 Filer with 1 disk shelf |
| CBI-SSMT-L1-K9 | 3 | 21 | 96GB | Up to 4.8 TB | NetApp 3240 Filer with 1 disk shelf |
| CBI-SSMT-L2-K9 | 5 | 40 | 96GB | Up to 9.1 TB | NetApp 3240 Filer with 2 disk shelves |
Additional Resources