Imagine the Possibilities
The Internet of Things helps organizations save valuable time, money, and even lives. (3:37 min)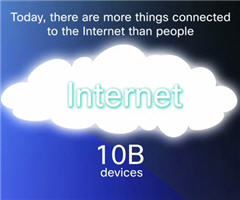 Imagine the Possibilities
Close
Viewing this video requires the latest version of Adobe Flash Player with JavaScript enabled.
The Internet of Things (IoT) is the connection of all machines, devices, sensors, automobiles, cameras, and other "things" to help customers improve operations and save valuable time, money and even lives. The IoT will connect new places such as manufacturing floors, energy grids, healthcare facilities, and transportation systems.
More on the Internet of Things

Learn how IoT changes areas such as manufacturing, energy grids, and healthcare facilities. (PDF - 2.68 MB)

See how the Internet of Things can prepare you for the manufacturing revolution. (PDF - 633 KB)

First Wind implemented IP-based video surveillance and connected grid solutions. (PDF - 187 KB)
Implementing the Internet of Things
Achieve more value from grid operations on a single, intelligent, highly secure network.
Learn how organizations are building intelligent networks for industrial automation.
Protect your local and remote personnel and property with Cisco solutions.
Executive Connection
Learn about innovation leadership and expertise at Cisco.

Chief Futurist, Innovations Practice
Executive Bios
About Cisco
Investor Relations