You + Networks = Impact
Networks multiply the impact of people working to solve complex social and environmental challenges. (1:48 min)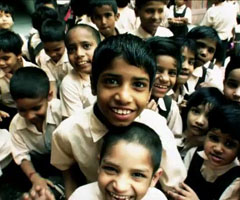 Corporate Social Responsibility
At Cisco, we believe that networks can multiply our impact, which is why we dedicate our networking expertise to helping address some of the world's most pressing problems. Working in more than 150 countries, we can build more impactful and sustainable programs that address today's complex social and environmental issues while also supporting our business.
More on Corporate Social Responsibility
Human and technology networks are improving education, healthcare, and job prospects in China. (3:18 min)

See how the rich partnerships surrounding NetHope disseminate best practices around the world. (2:34 min)

Networks help Cisco build better Corporate Social Responsibility programs and create long-term value.
Implementing Corporate Social Responsibility
The Cisco Intelligent Network helps build thriving communities around the world.
Reduce or cut travel costs by scaling resources and meeting with executives, experts, and partners more frequently, virtually.
Connect anyone, anywhere, on any device, at any time.
Expert Insight
Dipak Basu
Founder, NetHope
"From a network perspective, the overall intent of technologies were to make our members abilities to deliver aid more efficient."
Cisco CSR Blog
Join the CIO Community
Executive Connection
Benefit from leadership and expertise at Cisco.

Senior Vice President, Corporate Affairs
Executive Bios
About Cisco
Investor Relations