Become a Broker of Cloud Technologies
Lead a cloud strategy that supports new requirements and adds business value. (2:27) min)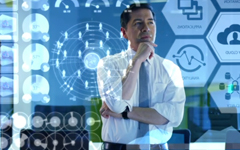 More on Cloud

A new study looks at the shifts in cloud-based service delivery and consumption. (PDF - 1.4 MB)
Visualize the savings with this cost-focused infographic.

Read how IT can be the broker of cloud services to the lines of business (LoB). (PDF - 424 KB)
Implementing Cloud
Learn how we partner with enterprise, mid-market, and service providers to implement the right cloud strategy for their business priorities.
We'll help you assess your challenges and identify your unique cloud opportunities.
Cisco Capital can help finance essential technology for transforming your competitiveness.