Foundation for the IP Next-Generation Network
CRS-1 Video Data Sheet
Video Data Sheet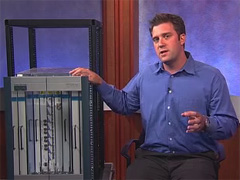 Get an overview of the CRS-1 four-slot system, a compact 40-Gbps router. (2:51 mins)
Viewing this embedded video requires the latest version of Adobe Flash Player with JavaScript enabled.
Get the Flash Player
View Interactive 3D Model of the CRS-1 4-Slot
The new Cisco CRS-1 4-Slot Single-Shelf System is the world's most compact 40-Gbps router on the market today, extending the core to regional class 3 and 4 central offices, MSO hub locations, and data center peering sites.
It represents a smaller, more cost-effective configuration of the Cisco CRS-1 Carrier Routing System, which marks a new era in carrier IP communications by powering the foundation for network and service convergence today while protecting investments for decades to come.
The Cisco CRS-1 4-Slot Single-Shelf System:
Consists of a single 4-slot, 40-Gbps-per-slot line-card shelf for a total switching capacity of 320 Gbps
Protects investments by supporting all CRS-1 physical layer interface modules (PLIMs) and modular services cards (MSCs)
Offers you the service flexibility, continuous system operation, and system longevity of the CRS-1 in a smaller and more cost-effective configuration
Features a midplane design for a space-efficient form factor
Contains slots for four MSCs, four PLIMs, and two route processors in the front of the chassis
Accommodates four fabric cards in the rear of the chassis which perform Stage 1, Stage 2, and Stage 3 switching, supporting service-intelligent fabric-based queuing and multicast replication
Featured Content

CRS-1 Brochure (PDF - 2.1 MB)
Delve into the details of the carrier routing system's components, architecture, software, configurations, and specifications in the CRS-1 brochure.
Optimizing Video Transport in Your IP Triple Play Network
IPTV services place stringent requirements on your "triple play" network. Learn about video transport network architectures plus their implications on core, distribution, aggregation, and access.
Data Sheets and Literature