Overcome Business Barriers
Chief information officers engage customers and partners in new ways to increase sales and growth. (4:11 min)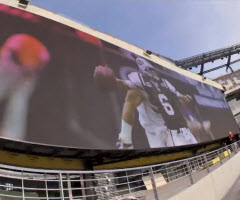 Overcome Business Barriers
Close
Viewing this video requires the latest version of Adobe Flash Player with JavaScript enabled.
Global thought leaders are embracing new operating models that achieve both innovation and operational excellence to create active employee, partner, and customer engagement. At New Meadowlands Stadium, CTO Peter Brickman has a technology strategy that enables agile and efficient operations:
More on Innovation

Learn how to add new devices and technology into your networking strategy.

The National Hockey League discovers innovative ways to deliver its content.

Strategy is the key to maintaining security in ever-changing environments.
Implementing Innovation
Learn how to securely connect anyone, anywhere, on any device, at any time.
Improve access to people and information at the right place and the right time.
See how other stadiums are using Cisco StadiumVision to improve fan experiences.
Expert Insight

Peter Brickman
Chief Information Officer, New Meadowlands Stadium
"We have 2200 IP-enabled screens that can provide 2200 unique experiences. We can instruct our servers to change all of them within 24 hours."
CIO Community
Executive Connection
Learn about innovation leadership and expertise at Cisco.

Vice President, IT, Cisco
Executive Bios
About Cisco
Investor Relations