Customer Experience in Retail
Personalized, Pervasive Service
Tesco CIO talks about fueling growth through superior customer experience. (3:24 min)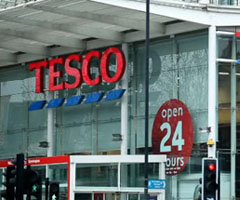 Taking a Customer-Centric Approach
Tesco is one of the world's leading multi-national, multi-category retailers headquartered in the United Kingdom. Mike McNamara, Chief Information Office of leading retailer Tesco, explains why technology is essential to help Tesco respond to changes in the competitive market.
More on Customer Experience in Retail

Get best practices to create an effective global e-commerce expansion plan.

See how network-based innovations help Simon Spurr prepare for New York Fashion Week.

Everything you always wanted to know about PCI but were afraid to ask.
Implementing Customer Experience in Retail
Transform the customer experience, do more with fewer resources, improve security, and optimize staff.
Safeguard vital data and mitigate your business risks.
Connect with consumers, anytime, anywhere, and across any channel.
Executive Connection
Learn about convergence leadership and expertise at Cisco.

Vice President, IBSG Retail and Consumer Packaged Goods Practice
Executive Bios
About Cisco
Investor Relations