Storage Networking Technology
Switching Performance Fairness
Since their introduction in 2002, Cisco MDS 9000 family switches have been built on central switching fabrics to ensure fair treatment of all storage traffic. This treatment aids consistent performance , regardless of whether traffic needs to be switched within a single line card or from one card to another.
Traffic fairness, combined with the extreme high availability of the underlying MDS 9000 platform, provides the agility required by modern virtualized data centers and cloud computing. These characteristics make the MDS 9000 especially well suited for IBM System z mainframe FICON environments.
Common LAN-SAN Operating System and Graphical User Interface (GUI)
The NX-OS operating system underlies both the MDS 9000 family and the entire Nexus family of data center Ethernet switches, from the Nexus 1000V switch embedded in the VMware vSphere hypervisor up through the largest 18-slot Nexus 7000 chassis.
The Cisco NX-OS platform is based on the proven MDS 9000 SAN-OS operating system, and takes advantage of the vast Cisco store of Ethernet expertise and innovation. It provides the ideal platform for SAN, LAN, and the smooth transformation of separate, installed networks into a unified fabric.
Virtual SANs (VSANs)
The VLAN technology so indispensable in the Ethernet environment to Fibre Channel, was adapted to create VSANs.
VSANs allow separate SAN islands to be consolidated into one economical SAN infrastructure. Each VSAN environment can then enjoy hardware-enforced traffic isolation, management isolation, fault isolation, and differentiated Quality of Service (QoS) levels. Cisco VSAN technology forms the basis for the ANSI T11 Fibre Channel standard for virtual fabrics.
Services-Oriented SANs
A number of advanced storage management functions can be deployed as applications on service engines integrated into MDS 9000 platforms. Service engines are available as an intelligent fabric switch, combined with Fibre Channel ports in a Multi-Service Module, or in a four-engine, high-performance Storage Services Node.
These service engines can deliver a broad range of solutions, including data migration, data encryption, and I/O acceleration over MANs and WANs. They also support basic SAN Extension over IP for Fibre Channel and FICON.
In general, Services Oriented SAN solutions can be deployed anywhere in the fabric without requiring cabling or topology changes. Simple administrative configuration options cause traffic to be automatically routed through the service engine (or service engine cluster, for high availability) to provide the desired capability.
VM-Aware SANs
A combination of industry-standard features and Cisco innovation allows virtual machines to enjoy many of the same features as physical hosts:
Separate zoning through access control
Performance monitoring
Individual assignment of Quality of Service (QoS)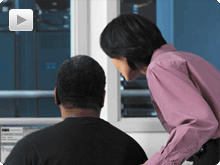 Get an overview of the Cisco MDS 9000 8-Gbps SAN solution. (Video - 5:37 min)
Learn. Design. Develop.
Why Choose Cisco MDS 9000
Industry-leading features improve performance and efficiency.
See How
Data Center Insights
Get the latest news about products, technologies, services, and resources.
Subscribe Now