Efficiency, Reliability, and Savings
Learn the many benefits of the partnership between IOUG and Cisco.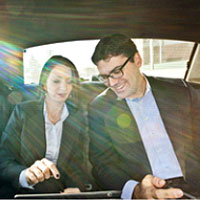 Cisco Supports IOUG Members
Cisco helps you move to a whole new level of performance while reducing space requirements, hardware, cabling, and energy costs.
Follow Us
Related Links
Business Advantage Solutions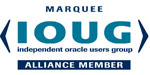 Join Us at Oracle OpenWorld 2013
Come to San Francisco, and see how Cisco UCS boosts Oracle database performance.
Learn More
Cisco Now Supports IOUG
As an IOUG Marquee Alliance Member, Cisco supports the mission and goals of IOUG and its members. Our strategic partnership with Oracle helps us deliver the best solutions for Oracle customers.
We're committed to helping customers get the most from their Oracle investment. Our server, hardware, and software solutions support Oracle Database and Oracle applications and are designed to:
Provide exceptional levels of performance and flexibility
Accelerate deployment
Simplify management
Lower costs
New Cisco Data Center solutions are based on Cisco Unified Computing System servers that are powered by Intel®. They cost significantly less than many existing data center architectures and improve functionality to help increase your business advantage.
These solutions work with Oracle Database and Oracle applications to help transform your business, increase security and availability, and cut costs.
Cisco UCS in Action
Show your IT department what Cisco announced at Oracle OpenWorld.
Learn More
Overcome the Cost and Complexity Hurdles
Get architectural guidance and affordable solutions to help your enterprise IT organization meet the daunting challenges of big data.
Learn More (PDF - 73 KB)
Running Oracle on Cisco UCS
Learn about the value and benefits of running all Oracle environments with the Cisco Unified Computing System.
Read Brochure (PDF - 3.1 MB)
The Cisco UCS Advantage
This series of short videos explains the components of the Cisco Unified Computing System and the advantages it brings to IT and users.
Watch Now
Cisco at COLLABORATE 13
COLLABORATE 13 was recently held in Denver, Colorado on April 7-11. There, Cisco demonstrated the latest pre-validated Oracle FlexPod solution from Cisco and NetApp with Intel® Xeon® processor. This solution can provide faster database and application deployments, flexible configurations, and simpler infrastructure management.
The FlexPod solution is built to give you greater Oracle scalability and performance, as well as the flexibility to accommodate different workloads and use cases.
In addition, we showcased solutions that help enable true workload mobility for Oracle from Cisco, EMC, and VCE. These solutions allow you to easily migrate both planned and unplanned Oracle RAC workloads across geographies with zero downtime and true active-active data centers.
If you missed us at COLLABORATE 13, check out these videos to see highlights, and hear industry experts describe how Cisco Unified Computing System has improved their Oracle systems.
Learn More
FlexPod Choices Will Soon Expand
Cisco and NetApp are working with a third partner on another FlexPod hypervisor. (1:20 min)
Learn More

Oracle VM Is Now UCS Certified
Consolidate Oracle workloads and licenses with Cisco Unified Computing System (UCS). (1:17 min)
Learn More

Use the latest prevalidated Oracle FlexPod solution from Cisco and NetApp, with an Intel Xeon processor, for:
Faster database and application deployments
Flexible configurations
Simpler infrastructure management
These Cisco and NetApp solutions support:
Oracle RAC on FlexPod with Oracle Linux
Oracle RAC on FlexPod with Oracle VM
Oracle JD Edwards on FlexPod with Oracle Linux
You get greater Oracle scalability and performance, and the flexibility to accommodate different workloads and use cases. The following table outlines some of the benefits.

Oracle Applications on Cisco UCS
Get faster deployment, flexible configuration, and simpler management.
Learn More
| Converged Infrastructure | Increasing data center complexity and speed of business demands have led IT executives to seek complete solutions for their IT infrastructure. |
| --- | --- |
| Reduced risk | Most Oracle databases and applications are mission-critical to an organization. Reducing risk from software changes and hardware upgrades is essential. |
| Rapid deployment | Decreasing budgets and reduced staffing make efficient deployment of new hardware and software critical to meet the accelerating rates of business change. |
| Improved flexibility and scalability | Rapidly growing and seasonal workloads require the ability to quickly add capacity and move resources to meet demand. |
| Proven and supported solution | Prevalidation of complex multivendor hardware and software solutions is essential, as are formal support agreements and processes. |
FlexPod essentially eliminates the need for you to spend time designing a system for your applications and then test and validate that configuration. Because it has been rigorously tested by Cisco and NetApp, FlexPod also reduces the risk of problems and failures.
Discover how easy it is to support your Oracle database or applications on FlexPod, thanks to the cooperative support arrangement between Oracle, Cisco, and NetApp. You now have a choice in engineered systems for Oracle.
Intel, the Intel logo, Xeon, and Xeon Inside are trademarks or registered trademarks of Intel Corporation in the U.S. and/or other countries.