Unify all your voice, video, data, and mobile applications for interactive collaboration.
UC on Cisco Routers Update
Learn about new capabilities and how to design your architecture for maximum benefit.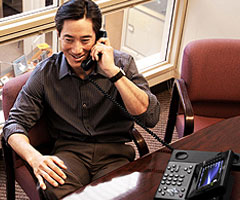 Sophistication Meets Simplicity
Close

Viewing this video requires the latest version of Adobe Flash Player with JavaScript enabled.
Compare Unified Communications Options
Make the best choice: Learn 10 ways unified communications solutions differ. (PDF - 275 KB)
Read Report
Enhanced Communication
Organizations use unified communications solutions to improve collaboration.
See Case Studies
Headset Information
Learn what you need to know about compatible headsets.
Choose a Headset