UC on Cisco Routers Update
Improve security, reliability, and ROI with new capabilities and solutions.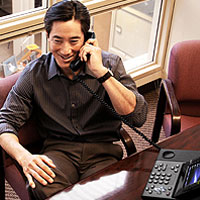 Unified Communications
View, optimize, and manage your entire communications system from one screen.
All Unified Communications Products
Cisco Unified Communications Platform
Back to Top
Cisco Unified Messaging
Back to Top
Cisco Unified Communications Endpoints
Back to Top
Cisco Unified Communications Virtualization
Back to Top
Cisco Unified Communications Licensing and Subscription
Back to Top
Extend Communications
Provide reliable and advanced communications capabilities for your staff no matter where they are working, with a full suite of IP Communications solutions and endpoints. Manage voice, video, mobility, and presence services between IP endpoints, media-processing devices, voice-over-IP (VoIP) gateways, mobile devices, and multimedia applications.
Cisco IP Communications products can also help your business:
Efficiently run voice, data, and video communications over a single, converged network
Take advantage of a wide array of Cisco IP endpoints to meet diverse communications needs
Optimize efficiency with Cisco Unified Communications network management
At a Glance
Collaborate with Confidence
Use Cisco Collaboration Solutions to help you meet business challenges and build your competitive advantage.
Transform business interactions with real-time voice and video communications.
Quickly form dynamic teams to make better decisions, faster, regardless of location.
Respond faster to customers with instant access to company experts.
Connect more securely, communicate, and collaborate across corporate boundaries.
Face Business Challenges, Increase Efficiency
The nature of work is changing rapidly as people change the ways they interact:
More mobile, dispersed workforces
An explosion in content and devices
More cross-organizational teams and processes
A proliferation of video communications
Increased use of social software as a business tool
Prepare for the next breakthroughs in innovation and efficiency with Cisco WebEx products. Embrace these new trends: actively engage employees, partners, and customers to work more closely together, anytime, anywhere, in a more natural and integrated way.
Learn More (PDF - 259 KB)
Featured Case Study
Learn why collaboration is critical to your business.