More Ways to Collaborate
Extend the Cisco TelePresence experience to WebEx users. (2:49 min)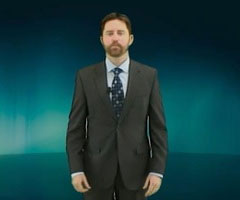 Cisco TelePresence conferencing delivers exceptional face-to-face collaboration experience through life-like video, audio, and content sharing. Cisco WebEx Meeting Center provides easy-to-use, secure web conferencing for millions of users across platforms.
By bringing together these two powerful collaboration solutions, you can create an environment where people can easily work together, from anywhere, using a wide variety of endpoints and devices, including mobile.
Extend Your Conferencing Circle to Anyone Within and Beyond Your Organization
WebEx and TelePresence are optimized to work with any standards-based video endpoints, helping you broaden the reach of your meetings and simplify the experience for all participants.
Expand your calling circle to anyone, anywhere, on any video-enabled device
Capitalize on your collaboration time with simplified scheduling and easily start meetings with a single button
Get rapid return on WebEx and telepresence investments, and extend web collaboration to thousands of users worldwide
Easily Schedule and Attend Meetings
To schedule a meeting, an organizer can use the familiar capability of Microsoft Outlook for Windows, enabled by the WebEx Productivity Tools plug-in or Cisco TelePresence Management Suite (TMS). The host simply selects the participants, adds the preferred telepresence endpoints and includes the WebEx information. All participants receive one meeting invitation with all the information about how to join through telepresence or WebEx. When it's time to start the meeting, the telepresence participants can join by pushing a single button.
During the meeting, all attendees see the active speaker—both from the telepresence endpoint and the WebEx meeting. This solution supports screen resolutions up to 720p high definition, depending on settings and network capacity.
All meeting participants can also share content such as files, documents, or presentations. The telepresence users simply connect the VGA or HDMI cable to their laptop and select sharing mode. The content is automatically shared with all attendees, including those joining through WebEx, even on mobile phones or tablets. WebEx users can also easily share their content so that everyone in the meeting can work together on creating documents, reviewing content, and approving changes—all in real time.
Cisco Pervasive Conferencing delivers highly scalable multiparty meetings from any device in any location. Now organizations can adopt solutions that deliver easy-to-use, cost-effective, and scalable conferencing for all.
With the combination of Cisco TelePresence and Cisco WebEx Meeting Center, you get:
Secure two-way video sharing with up to HD 720p screen resolution between the WebEx Meeting Center and standards-based video endpoints
Integrated audio and data sharing, including application and desktop content sharing among all users in a meeting
Improved integrated conference scheduling through a single interface.
For Partners
Log in to access tools and resources.