Cisco and NetApp at Collaborate 13
Experts discuss the benefits of three new Oracle-based Cisco Validated Designs.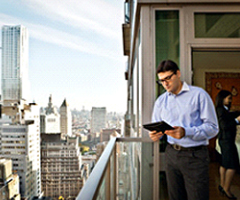 Oracle Applications on Cisco UCS offer users a scalable, high-performance computing platform for running all Oracle solutions.
Join Us at Oracle OpenWorld 2013
Come to San Francisco, and see how Cisco UCS boosts Oracle database performance.
Learn More
Get a Scalable Architecture
Find out how FlexPod helps build a highly secure multi-tenancy architecture.
Read Overview
Oracle Expert Talks Virtualization
Hear how GE virtualized with House of Brick Technologies and Oracle. (Video - 3:26 min)
Watch Now
Cohesive, Highly Secure Architecture
The Cisco Unified Computing System (UCS) offers a scalable, high-performance computing platform for running all Oracle databases and applications. Oracle Applications on Cisco UCS architecture give you built-in reliability, availability, and serviceability (RAS). This helps to ensure nonstop access to important applications and data at a lower total cost of ownership.
Cisco networking technology has been accelerating and strengthening security on Oracle solutions for decades. Cisco UCS extends these benefits with the addition of a high-performance x86 platform optimized for Oracle solutions. This proven combination:
Simplifies deployment of Oracle applications and databases
Improves Oracle application and database performance
Accelerates new implementations and upgrades
Enhances operational flexibility, security, and efficiency
Consistent, Integrated Infrastructure
Cisco UCS is an innovative new architecture that combines high-performance servers, high-speed networking, storage access, and virtualization. The combination of Oracle database clustering, Cisco UCS, and Intel® Xeon® processors with Intel Predictive Fault Management helps to ensure high availability for all Oracle solutions.
Automatically configured through unified, profile-based management, Cisco UCS helps your IT department:
Simplify the infrastructure
Virtualize applications
Improve business agility
Increase efficiency
Gain a single point of management
Support
Creating Customer Success
Cisco computing solutions and Oracle software help increases customer competitiveness.
Read More
Stay Current on Data Center News
Get data center product and technology updates in Data Center Insights, a quarterly e-newsletter.
Sign Up
Oracle Performance on Cisco UCS
The intelligent combination of Cisco computing solutions and Oracle software led to world record benchmarks for Fusion Middleware, E-Business Suite, WebLogic Server, and more. Customers running Oracle infrastructure (Database or Applications) offer both business and technical benefits that improve competitiveness through:
Better performance and response times
Shorter deployment times
Easier management
Workload agility
High availability
Learn More

FlexPod Choices are Expanding
Cisco and NetApp are working with a third partner on another FlexPod hypervisor. (1:20 min)
Learn More

Oracle VM Is Now UCS Certified
With Oracle VM on Cisco UCS, you can consolidate Oracle workloads and licenses. (1:17 min)
Learn More

The latest prevalidated Oracle FlexPod solutions from Cisco and NetApp, with an Intel Xeon processor, can provide:
Faster database and application deployments
Flexible configurations
Simpler infrastructure management
These Cisco and NetApp solutions supports:
Oracle RAC on FlexPod with Oracle Linux
Oracle RAC on FlexPod with Oracle VM
Oracle JD Edwards on FlexPod with Oracle Linux
You get greater Oracle scalability and performance, and the flexibility to accommodate different workloads and use cases. The following table outlines some of the benefits.

Oracle Sets Records with Cisco UCS
Cisco UCS B230 M2 Blade Server runs Oracle E-Business Suite optimally. (PDF - 3.7 MB)
Learn More
| Converged Infrastructure | Increasing data center complexity and speed of business demands have led IT executives to seek complete solutions for their IT infrastructure. |
| --- | --- |
| Reduced risk | Most Oracle databases and applications are mission-critical to an organization. Reducing risk from software changes and hardware upgrades is essential. |
| Rapid deployment | Decreasing budgets and reduced staffing make efficient deployment of new hardware and software critical to meet the accelerating rates of business change. |
| Improved flexibility and scalability | Rapidly growing and seasonal workloads require the ability to quickly add capacity and move resources to meet demand. |
| Proven and supported solution | Prevalidation of complex multivendor hardware and software solutions is essential, as are formal support agreements and processes. |
FlexPod essentially eliminates the need for you to spend time designing a system for your applications and then test and validate that configuration. Because it has been extensively tested by Cisco and NetApp, FlexPod also reduces the risk of problems and failures.
Discover how easy it is to support your Oracle database or applications on FlexPod, thanks to the cooperative support arrangement between Oracle, Cisco, and NetApp. You now have a choice in engineered systems for Oracle.
Oracle Integration, Validation, and Certification
Learn how Oracle applications are integrated, validated, and certified with the Cisco Unified Computing System (UCS):
Oracle Validated Configurations with Cisco UCS
Cisco UCS is certified for Oracle Linux, Red Hat Enterprise Linux, and Microsoft Windows. All Oracle applications, middleware, and management software are certified to run on Cisco UCS.
Oracle itself has no certification program for applications, middleware, and management software. Oracle ports its code and tests to individual OS and versions. Any server device or system that the OS vendors test, certify, and post to their hardware compatibility list is considered certified to run Oracle software.
The following table lists applicable servers, OS, and software.

| Server Model | Operating System | Oracle Software |
| --- | --- | --- |
| Cisco Unified Computing System with two Cisco UCS B200 M1 Blade Servers | Oracle Enterprise Linux 5.4 x86-64 | Oracle Database 11g Release 1 (11.1.0.7) |
| | Oracle VM Server 2.2 | Oracle Database |
| | Oracle VM Server 2.1.5 x86 and x86-64, and Oracle Enterprise Linux 5.3 x86-64 | Oracle Database |
| Cisco UCS B440 M1 High-Performance Blade Server | Oracle Solaris | - |
| Cisco UCS B200 M2 Blade Server | Oracle Solaris | - |
| Cisco UCS B250 M2 Extended Memory Blade Server | Oracle Solaris | - |
Consult the following resources to learn more about Cisco UCS:
Empowering Innovation
Learn the benefits of the Cisco and Oracle partnership showcased at Oracle OpenWorld.
See Event Highlights
A Legacy of Oracle Performance
Cisco and Oracle have set and exceeded benchmarks across a wide range of software.
Read More
Fast Access to Business Data
Cisco UCS provides a high-performance platform, built on a balanced architecture that features unified fabric, Intel Xeon processors, and large memory capacity. As a result it has set new world-record benchmarks running Oracle databases and applications.
Performance Benchmarks
Migrate from RISC/UNIX Servers to Cisco Unified Computing System
Expensive, aging RISC/UNIX-based servers don't provide the flexibility or agility needed to support today's business needs, or a path to cloud computing. Responding to today's IT challenges requires solutions built on open, industry-standard x86-based architectures.
For Partners
Log in to access tools and resources specifically designed for Partners.
Log In
Intel, the Intel logo, Xeon, and Xeon Inside are trademarks or registered trademarks of Intel Corporation in the U.S. and/or other countries
More Resources
Improving Solution Performance
Close

Viewing this video requires the latest version of Adobe Flash Player with JavaScript enabled.
Oracle Virtualization on Cisco UCS
Close

Viewing this video requires the latest version of Adobe Flash Player with JavaScript enabled.
Presentations
(1)
Solution Overviews
(3)
White Papers
(13)
Case Studies
(4)