Cisco Intelligent Automation for Cloud Webcast
See the benefits of a unified cloud platform across hybrid environments.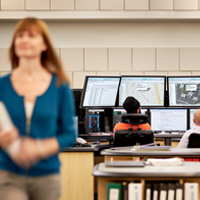 Cisco Intelligent Automation for Cloud Webcast
Cisco Unified Management solutions help organizations to automate and manage their IT infrastructure and services to meet the needs of the business. Cisco data center and cloud management software provides the flexibility and agility needed for IT to deliver services faster, more efficiently, and with lower total cost of ownership.
Enhance Speed, Efficiency, and Innovation
Cisco Unified Management is optimized for the Cisco Unified Computing System (UCS) and Cisco Nexus architectures as well as heterogeneous data center and cloud environments, across both physical and virtual resources. Unified Management solutions include:
Self-service portal and service catalog for on-demand provisioning of IT resources
Automation and orchestration of IT processes, with integration into existing IT systems management tools
Resource management that delivers performance isolation and efficient use of hardware infrastructure pools
Workload automation to deliver efficient batch and event-driven enterprise business processes
Lifecycle management from request to retirement to ensure optimization of resources
Policy-based management for improved governance and control
In addition, Cisco Unified Management offers:
Management of both virtual and physical resources for bare-metal and multiple hypervisor environments
Automated network provisioning, to simplify the deployment of network services in a virtual data center
Orchestration of complex operational processes for SAP and other enterprise applications
Scheduling and automation for big data and business intelligence workloads
Cisco Unified Management is a critical component of the Cisco Unified Data Center platform, providing a portfolio of management software solutions to complement Cisco networking and compute systems.
Increase Agility and Reduce Complexity
By promoting server consolidation and process automation, Unified Management solutions deliver greater agility and scale for the data center, while reducing complexity and risk. Cisco solutions support role- and policy-based management using service profiles and templates to simplify operations. In addition, these solutions help enable self-service provisioning for faster, more efficient IT processes.
Improve Visibility and Control
Cisco management software is optimized for Cisco architectures, but it is designed to work in a heterogeneous IT environment. Integration with industry-leading systems management and storage partners helps Cisco management solutions provide greater system visibility and preserve our customers' investment in existing:
Infrastructure systems
Management tools
IT processes
Reduce IT Costs
With exceptional functionality and an ecosystem-friendly approach, Unified Management solutions can reduce day-to-day operational expenses and increase resource availability for implementation of more strategic initiatives. Flexible, model-driven, and policy-based automation:
Reduces the time and cost of setting up and provisioning infrastructure
Increases asset use by eliminating overprovisioning and by efficiently pooling resources
Support IT-as-a-Service and Cloud Computing
Cisco provides enterprise-class networking and compute infrastructure, as well as the necessary management solutions, to help our customers on their journey to cloud computing and IT-as-a-service. With this unique approach, Cisco provides:
Equivalent management capabilities across physical and virtual resources
The ability to support both private and public clouds, and the evolution to hybrid cloud environments
Cisco Unified Management solutions provide simplified management and automation across converged data center infrastructure and cloud computing architectures.
Unified Computing System Management
Manage all Cisco UCS infrastructure components and configurations through an extensible, global, unified architecture that is policy-driven. Products include:
Converged Infrastructure Management
Comprehensive management and automation for converged infrastructure solutions built around Cisco UCS and Nexus switches
Cloud Management and Orchestration
Cisco Intelligent Automation for Cloud delivers a self-service portal, service catalog, and orchestration engine to automate provisioning across physical and virtual resources for public, private, or hybrid cloud environments. Products include:
Data Center and Virtual Network Management
Optimize the overall uptime and reliability of your data center infrastructure and improve business continuity. Deploy virtual network services and resources into a flexible cloud computing infrastructure. Products include:
Enterprise Workload Automation
Lower the cost of data by automating complex job streams across the enterprise, including big data and business intelligence workloads. Solutions include:
SAP IT Process Automation
Standardize, unify, and automate best practices for IT processes in complex, heterogeneous SAP environments. Products include:
For Partners
Log in to access tools and resources specifically designed for Partners.
Log In
Next Steps
Management Software Simplifying IT
Learn how Cisco IT uses Cisco Prime Service Catalog for its internal eStore. (4:24 min)
See Video
Unified Computing: Economic Impact
Get details on the business advantages of the Cisco Unified Computing System. (PDF - 799 KB)
Innovate with Cloud Technology
See how management software, Cisco Intelligent Automation for Cloud, turns IT into a competitive advantage (4:27 min)
Watch Video
Transform IT Productivity
Learn how a simplified architecture and superior automation can help you invest more IT resources in strategic initiatives.
Read Article