Improve Customer Satisfaction
Create more interactive and collaborative relationships with customers.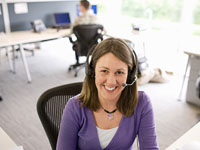 As customer expectations increase, maintaining customer satisfaction is an ongoing challenge — and a competitive opportunity. Continuing to evaluate and evolve your customer interaction strategies can deliver benefits including faster problem resolution, greater customer loyalty, better customer information, and more efficient contact centers. With collaboration tools, you can provide service through the channels your customers choose to reach you, whether in person, by phone, online, or through social media.
Companies typically evolve their customer-service strategies along three waves. The first involves cost reduction, the second emphasizes improving relationships, and the third focuses on creating more interactive user experiences. This evolution can help not only to improve the quality and efficiency of interactions, but provide differentiation from competitors.
Collaboration Use Cases
Explore how collaboration implementations can help you improve customer satisfaction.
Primary Use Cases for Improving Customer Satisfaction
Provide Multichannel Customer Service

Move past typical service strategies to create more interactive and collaborative customer relationships.

Locate & Access Remote Experts

Identify, locate, and connect with experts in real-time to provide customers with advisory services for sales and support using high-quality audio and video.

Monitor Social Media

Provide real-time proactive response to generate greater customer loyalty and brand preference.
Secondary Use Cases for Improving Customer Satisfaction
Identify Your Business Priorities
Address business priorities by improving collaboration.
Evolving Customer Satisfaction
ZK Research analyzes customer service evolution and how companies improved customer support.
Download Paper
(PDF - 608 KB)
Keep Pace with the Social Customer
Forrester Consulting says next-generation contact centers must become relationship platforms.
Read White Paper
(PDF - 156 KB)