Cisco Catalyst 6504-E Switch Video Data Sheet
Video Data Sheet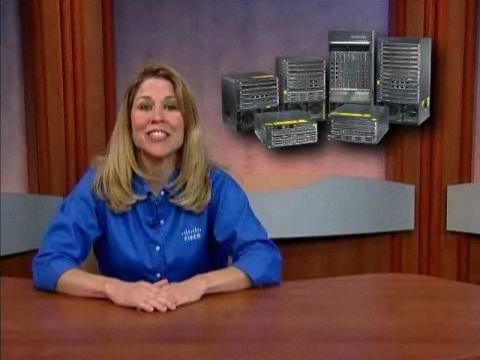 The Catalyst 6504-E is a small form-factor, high performance chassis. (5:25 min)
Viewing this embedded video requires the latest version of Adobe Flash Player with JavaScript enabled.
Get the Flash Player
The 4-slot Cisco Catalyst 6504-E Switch a compact 5 rack-unit height that is ideally suited for multi-Gbps secure data centers, remote access, e-commerce, and converged network solutions. The Cisco Catalyst 6504-E supports Cisco Catalyst 6500 Series end-to-end operational consistency benefits.
Important Features
Supports all Cisco Catalyst 6500 Series modules, including:
Supervisor engines
Fast Ethernet modules (with IEEE 802.3af Power over Ethernet [PoE])
Gigabit Ethernet modules (with IEEE 802.3af PoE)
10 Gigabit Ethernet modules
Flex WAN modules
Shared Port Adaptors/SPA Interface Processors
Multi-Gigabit services modules (content services ,firewall, intrusion detection, IP Security (IPSec), VPN, network analysis, and Secure Sockets Layer [SSL] acceleration)
The Cisco Catalyst 6504-E supports both Cisco Catalyst OS and Cisco IOS Software. It provides an additional slot for a redundant supervisor engine or extra module when compared to the Cisco Catalyst 6503-E Switch.
The Cisco Catalyst 6504-E provides maximum uptime with redundancy and rapid (1 to 3 seconds) stateful failover across supervisor engines. It supports modular Cisco IOS Software to minimize unplanned downtime through self-healing processes and simplifies software changes through subsystem in-service software upgrades.
The Cisco Catalyst 6504-E Firewall Security System is a 4-slot model providing an easily deployed solution that integrates a Cisco Catalyst 6500 Series Supervisor Engine 720 (with integrated policy and multilayer switch feature cards [PFC3/MSFC3] for system control, routing services, and dual-Gigabit-Ethernet ports); a Cisco Catalyst 6500 Series Firewall Services Module providing 5 Gbps of firewall services; and 2 additional open slots for further customization.
The Cisco Catalyst IPSec VPN systems take advantage of the Cisco 7600/Catalyst 6500 IPSec VPN Services Module and provide up to 2 Gbps of Triple Data Encryption Standard (3DES) encryption. The IPSec VPN systems provide a broad suite of services and a multitude of I/O interfaces.