Announcement
InfoWorld 2009 Technology of the Year Award

The Cisco Nexus 5000 Series won for its network consolidation technology blending Ethernet and Fibre Channel transport. Learn More
Unified Fabric for the Server Access Layer
DC The Planet
The Planet Adopts Nexus 5000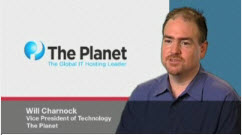 Service provider increases capacity and reduces server costs by 30 percent. (2:46 min)
Viewing this embedded video requires the latest version of Adobe Flash Player with JavaScript enabled.
Get the Flash Player
View Interactive 3D Model: Nexus 5020 Switch
View Interactive 3D Model: Nexus 5010 Switch
Build a flexible, scalable framework for your new data center network with Cisco Nexus Switches.
The innovative architecture of the Cisco Nexus 5000 Series Switches simplifies data center transformation by helping to enable a standards-based, high-performance unified fabric. Next-generation data centers increasingly have dense, multi-core, virtual-machine-intensive servers. As the network foundation of Cisco Data Center 3.0 and the latest addition to the family of data-center-class switches, the Cisco Nexus 5000 Series can meet these business, service, application, and operational requirements.
With these switches, you can:
Consolidate the data center and protect investments in existing server, network, storage, and facilities assets
Decrease the total cost of ownership by simplifying the data center infrastructure
Increase business agility with easier, faster, and pervasive data center virtualization
Enhance business resilience with greater operational continuity
Use existing operational models and administrative domains for easy deployment
For a discussion of networking-based technologies designed to optimize data centers, see Cisco's Data Center Networks Blog.
Featured Content
Customer Success Stories
Learn more about how customers are transforming their businesses with Cisco Nexus 5000 Series Switches.
Cisco Nexus 5000 Series Video Overview
(Video - 11:03 min)
Learn about the highlights of the newest Nexus Series Switch.
Calculate the Benefits of a Unified Fabric
(Flash)
Cisco Nexus 5000 Unified Fabric Calculator helps you compare costs of unified fabric implementation vs. unconsolidated input/output (I/O) technology.
The Building Blocks of Unified Fabric
Learn about how, designed as access-layer switches for in-rack deployment, the Cisco Nexus 5000 Series helps simplify data center infrastructure.
Press Coverage
InfoWorld
Cisco Nexus 5000 bridges the network gap.
Related Products
Additional Resources