Accelerate Video Adoption
Cisco pervasive video solutions promote collaboration across business communities.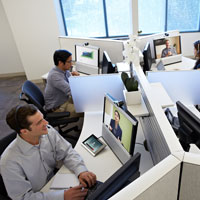 Pervasive adoption of video across business communities is expanding requirements for conferencing scale and reach. Integrated cloud solutions expand organization reach and provide even greater agility to support growing conferencing requirements by using cloud-based resources in an as-a-service model.
Now there are more options to simplify and scale multiparty video and unified communications meetings in the cloud. Learn the benefits of virtual meeting room services delivered by Cisco Powered cloud service providers. With virtual meeting rooms, you can deliver affordable and predictable service models. You can also take advantage of Pay-Per-Month and Pay-As-YouGrow commercial offers, available to organizations worldwide.
Virtual meeting room services make it easier to:
Meet anytime; no scheduling required
Support SIP and H.323 interworking for video and unified communications participants
Participate in unified meeting experiences across devices and network environments
Better secure meeting access options for internal and external meetings
Get affordable and predictable price points to suit your needs
For Partners
Log in to access tools and resources.