New Service Opportunities
Learn how you can deploy and benefit from providing high-bandwidth connectivity service for TelePresence connections. (2:02 min)
herospotlight_managed_tp_network_connection_new_service_opportunities
Video Data Sheet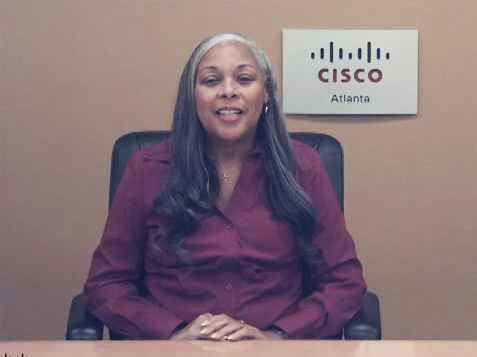 Video Description, Lorem ipsum dolor sit amet, consectetur adipisicing elit. (Xm Xs)
Viewing this embedded video requires the latest version of Adobe Flash Player with JavaScript enabled.
Get the Flash Player
Deliver New Services with TelePresence
Cisco Managed TelePresence Network Connection service is an optimized MPLS VPN connection. It has the intelligence to:
Assign priority to TelePresence traffic
Assign appropriate quality of service (QoS) and burst parameters based on validated guidelines
These features let you deliver an exceptional Cisco TelePresence experience over a converged IP Next-Generation Network (IP NGN) under two models: intracompany and intercompany.
The architecture allows you to:
Dynamically allocate bandwidth as needed
Prepare to offer other tiered and bundled services such as managed unified communications and application-aware VPNs
Offering the TelePresence connection service helps you:
Attract new customers and enhance customer loyalty
Capture a significant new revenue opportunity
Grow the connectivity business as TelePresence adoption increases and bandwidth demand rises exponentially
Deliver new offerings, such as:

Integrated, highly secure call processing
Dial-plan options and future integrated scheduling
Meet-Me multipoint services
Concierge services
Network Requirements
Cisco TelePresence is the first bandwidth-intensive application that cannot be handled over the Internet. Therefore, your IP MPLS network is relevant to strategic business applications in a new way.
Ultra-High-Definition Video
Ultra-high-definition visual and CD-quality audio impose far greater demands on the network than voice over IP (VoIP) or video conferencing does. Therefore, to offer a Cisco Managed TelePresence Network Connection service, you should introduce a stringent TelePresence application oriented for QoS and high availability.
Bandwidth Requirements
The traffic is transmitted into synchronized audio and high-definition video streams, which require the following bandwidth:
High definition (1080p): 5 Mbps per stream
Standard definition (720p): 2 Mbps per stream
Intercompany TelePresence Network Service
The architecture to provide intercompany Cisco TelePresence involves:
Call processing
Dial-plan management
Endpoint authentication and encryption
Universal directory services and fully automated scheduling (in the future)
The Cisco Managed TelePresence Network Connection service is the first of several from Cisco that will help you build Cisco TelePresence "dial tone." This feature lets enterprise customers connect directly to each other by Cisco TelePresence as easily as they can by phone.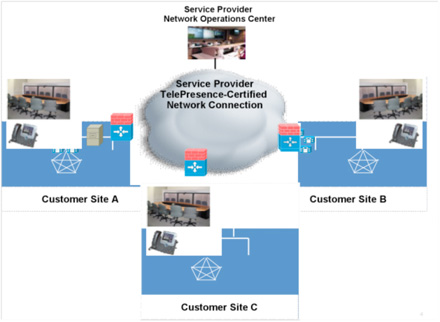 Typical Intercompany TelePresence Architecture
Click to enlarge image
Deployment Models
Cisco Hosted TelePresence Service
Host and manage the entire suite of Cisco TelePresence System services at a public location.
Cisco Managed TelePresence Endpoint and Scheduling
Deliver managed endpoint and reporting services. Scheduling proxy and dial-plan management promotes easy meeting scheduling and planning.
Cisco TelePresence Virtual Concierge
Offer TelePresence-enhanced virtual concierge services based on the Cisco IP Contact Center, including moderated meetings and bridging non-TelePresence meeting participants.
Cisco Multipoint TelePresence Connections
Facilitate highly secure multipoint control unit calls between multiple locations.
Service and Solution Components
Cisco Network Components and Management Capabilities
Benefit from the IP NGN for a converged next-generation architecture, as well as complementary Cisco remote management services.
Cisco TelePresence Authorized Technology Provider Partners
Work with Cisco partners for endpoint resale and advanced services integration.
Cisco Marketing Programs
Take advantage of our marketing programs, including the certification and Envision program.