Connect Customers to Experts
Provide customers with instant access to your experts, anytime, anywhere, on any device.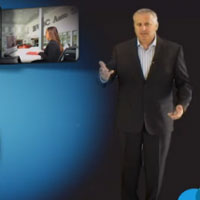 Connect Customers to Experts
Close
Viewing this video requires the latest version of Adobe Flash Player with JavaScript enabled.
A Lifelike, Immersive Customer Experience
Cisco Remote Expert Smart Solution offers one compelling and consistent collaboration experience, no matter where your customers and experts are located. It incorporates the best Cisco collaboration technologies to deliver one solution that helps companies respond to their customers globally, as if they were in the same room.
With Cisco Remote Expert Smart Solution, you can more easily access and use the most valuable assets your organization has-your people and the relationships you have with customers, partners, and suppliers. You can better engage the experience, perspectives, and knowledge of the colleagues and individuals across your business community through in-person communication and collaboration. This is a powerful way to encourage innovation and transform critical business processes.
Improving Response to Customers
Organizations of all sizes, in all industries, constantly need to improve agility to respond to changing customer needs. To remain competitive, companies must accelerate revenue, add and sustain customers, increase access to subject matter experts, and improve employee effectiveness.
Cisco Remote Expert Smart Solution provides:
Simple Delivery: Identifies, locates, and connects customers with experts for advisory services whenever and wherever they are needed
Virtualized Workforce: Creates a virtual pool of experts and specialists, whether co-located in particular centers, dispersed within a network, or located at home
Immersive Experience: Provides high-quality audio and video sessions for customer interactions with a compelling communications experience


See how companies manage their distributed expert resources by delivering a superior, on-demand customer video collaboration experience.
Learn how Cisco Remote Expert Smart Solution is currently transforming business in the financial servicesindustry.