NOTE:
This product is no longer being sold and might not be supported. View the End-of-Life Notice to learn:

End-of-sale and end-of-life dates
What replacement products are available
Information about product support
Cisco SR 500 Series Secure Routers
SR 520-T1 Video Data Sheet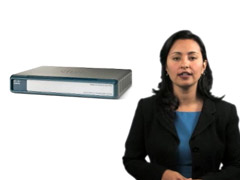 Get highly secure, high-bandwidth connectivity for your small business. (1:42 min)
Read Data Sheet
Viewing this embedded video requires the latest version of Adobe Flash Player with JavaScript enabled.
Get the Flash Player
Now small businesses can combine advanced security, Internet access, VPN connectivity, and optional wireless networking in a single, easy-to-use device. A component of the Cisco Smart Business Communications System, the Cisco 500 Series Secure Router brings together multiple technologies to help lower costs, improve network security, and simplify network management.
Cisco 500 Series Secure Routers offer:
Advanced security: Protect your network from attacks, worms, and viruses
VPN access: Provide secure connectivity for remote workers
Quality of Service (QoS): Ensure crisp voice and video communications
Optional secure wireless networking: Help enable employees to stay connected to the network from anywhere in the workplace, not just at their desks (not available on SR 520-T1)
Seamless integration into the Cisco Smart Business Communications System: Part of a complete system that is easy to configure and manage
Related Products
Additional Resources