Bringing Self-Service to Desktop and Communications Services
With Cisco's acquisition of newScale, you can now deploy Cisco Workplace Portal. This unified self-service IT portal delivers workplace services to employees.
Consumerization is a significant force affecting enterprise IT departments today. Employees' expectations are shaped by their technology experience as consumers, and they bring these expectations to the workplace. Requesting IT services can frustrate workers when they have to navigate:
Dozens of different web forms
Disparate existing systems
Manual processes
Today's enterprise users want a self-service ability to request the IT tools that they need to do their job. User computing devices and applications have increased, and IT managers must track each requested service to meet compliance and manage decommissioning at the end of a lifecycle.
The new Cisco Workplace Portal helps your IT organization:
Offer a menu of options in an easy-to-use web-based service catalog
Make it as easy for employees to order IT services as it is to buy an item online
Provide a consistent way to request all IT services through a unified self-service portal
Offer online status updates on user requests and manage the lifecycle of each service
Cisco Workplace Portal can act as the employee self-service IT storefront. This portal offers tools for desktop, communications, collaboration, and other workplace-related services, resulting in:
Improved user satisfaction
More efficient IT service delivery
More productive employees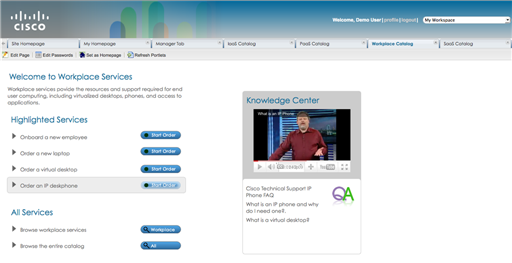 See enlarged version Cisco Workplace Portal
Cisco Workplace Portal
Close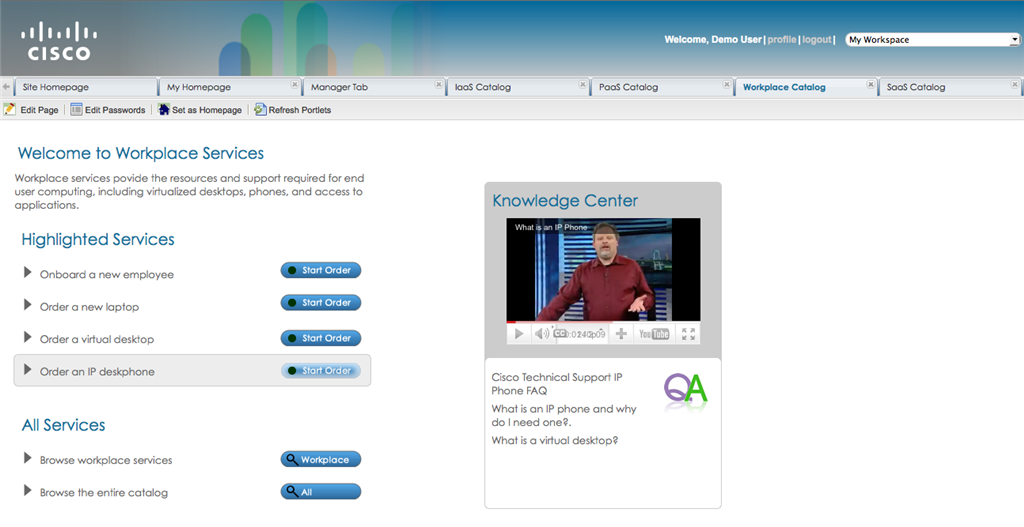 Featured Content
Global Energy Company Increases Efficiency by Automating IT Service Requests
Read this case to learn about SASOL how they used Cisco Workplace Portal to fulfill IT service requests.
Product Literature