Big Thinkers in Small Cells
Cisco brings mobile technology leaders and visionaries together to discuss how the small cell industry is developing and shaping the future of mobility.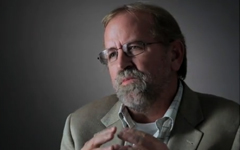 Improve Capacity and Coverage
With the increased demands on the network, service providers are investing in small cell solutions to help optimize and monetize consumer and business services on mobile devices across 3G, 4G, and Wi-Fi networks.
Cisco Small Cell solutions apply architectural innovation to mobile networking, transforming small cells into a platform for service innovation. These solutions are innovative, easy to deploy, and proven across the world.
Learn more about each solution:
Use this integrated platform for licensed or unlicensed small cell solutions, combining high capacity, high availability, and powerful performance with subscriber and network intelligence.
Give subscribers easy access as they transparently roam between third-generation (3G), fourth-generation (4G), Wi-Fi, and small cell networks.
As a Wi-Fi access gateway router, the Cisco ASR 1000 Series speeds services with performance and resiliency at the network edge.
Get a carrier-grade 802.11n access point for next-generation mobile data offload and personalized mobile services.
This fast, reliable Wi-Fi access point helps you to better accommodate tablets, smartphones, and high-performance laptops.
The modular design of the Cisco Aironet 3600 Series is used to offer mobile operators a licensed radio network extension on the footprint of the Cisco SP Wi-Fi solution..
This policy and subscriber management solution delivers dynamic session awareness, zero-touch provisioning, and per-flow granularity.
The Cisco Mobility Services Engine (MSE) helps you enhance profitability of service provider Wi-Fi, delivering network intelligence to solve business problems.
Extend routing intelligence to the pole in order to break the small cell backhaul bottleneck for metrocell deployments.
Successfully plan, deploy, monitor, troubleshoot, and report on indoor and outdoor wireless networks with this industry-leading platform.
Control, profit from, and personalize Wi-Fi offerings with this carrier-grade policy and subscriber data management solution.
Accelerate your success in deploying a mobile network with Cisco wireless solutions for service providers.
Small Cell Innovation
Close

Viewing this video requires the latest version of Adobe Flash Player with JavaScript enabled.
At-a-Glance
(1)
Brochures
(1)
Case Studies
(2)
Solution Overviews
(2)
White Papers
(7)
Relevant Products
Find details about hardware devices, software applications, and specialized components that relate to your networking solution.
Relevant Solutions