Offer New Mobile Services
Cisco Adaptive Intelligent Routing (AIR) collects and distributes intelligence across the mobile network to optimize data transport.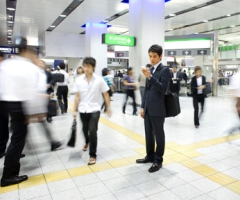 Mobile data traffic worldwide is predicted to increase by nearly 30 times by the year 2015. To keep pace and profit from this growth, you need to manage traffic efficiently and offer new services. Cisco Adaptive Intelligent Routing (AIR) extends the intelligence of the packet core to additional Cisco products in the mobile network. This increases network efficiency and service opportunities.
Optimize Your Mobile Networks
Cisco AIR helps you:
Lower the cost of mobile data traffic by providing service intelligence at the edge of the network
Take full advantage of the control plane in the packet core to maintain a quality service experience
Use Intelligent Routing to Earn More
Cisco AIR transforms the centralized and hierarchical mobile network to a one in which network and subscriber intelligence is distributed across the network. It provides optimal traffic transport for an enhanced service experience and reduces network costs.
Cisco AIR intelligently directs service traffic at the network edge, including:
Routing low-value traffic straight to the Internet
Routing high-priority or low-latency traffic without going deep into the packet core
Keeping localized traffic local
Creating new services and business models
Cisco ASR 5000 Series
Obtain Cisco Mobile Service Edge Gateway (MSEG) functionality with the Cisco ASR 5000 multimedia core platform.
Cisco Mobile Service Edge Gateway
The first implementation of AIR, the Mobile Service Edge Gateway (MSEG), is supported by the Cisco ASR 5000 Series.
Services for Service Providers
Accelerate your success in deploying a mobile network with Cisco Mobile Wireless Solutions for Service Providers.
View Content by Industry
Related Links