Transform the Mobile Internet
See how new Cisco mobility innovations are changing the world around us. (1:40 min)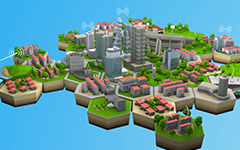 Reduce the complexity and cost of operating, deploying, and scaling service delivery across satellite access networks. Use Satellite Radio Access Networks (SatRANs) with Cisco Evolved Packet Core (EPC) SatRAN. This solution provides:
Standards-based interoperability
Fewer points of configuration
Common policy management and enforcement
Meet the business challenges of satellite service providers with a modular scalable architecture using the Cisco Satellite Services Platform. It incorporates the Cisco EPC SatRAN solution to:
Promote new revenue generation
Offer differentiated services
Achieve operating expenditure reduction
Increase service velocity
To help deploy satellite solutions efficiently and successfully, Cisco Services offers consulting for design, implementation, integration, and support. Cisco is an experienced and trusted partner in delivering next-generation wireless Internet services and solutions.
Additional Resources
At-a-Glance:
Solution Overview:
Cisco ASR 5000 Series

The Cisco ASR 5000 Series supports multiple Evolved Packet Core (EPC) network functions, including delivery of Satellite Radio Access Network (SatRAN)-based services

Cisco Prime for Service Providers

Cisco Prime for Service Providers products provide comprehensive management for next-generation IP networks, mobility, video, and managed services.

Services for Service Provider

Cisco Mobile Wireless Solutions for service providers can help accelerate your service delivery across satellite access networks.
Relevant Products
Find details about hardware devices, software applications, and specialized components that relate to your networking solution.