TelePresence Solutions
Special Offers
Limited time offers on Cisco TelePresence endpoints.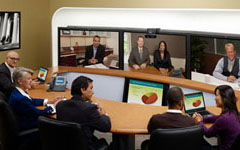 TelePresence solutions take interaction and collaboration to a new level. You also get any-to-any interoperability with most standard-definition (SD) and HD video conferencing.
Experience Solutions
See the solutions that transform specific collaboration opportunities into valuable experiences.
See how people join live, face-to-face collaboration experiences anywhere.
Give customers the power to connect, at the touch of a button, with a subject matter expert ready to provide tailored, in-person service.
Combine Cisco TelePresence systems with instant-access medical information to give more patients personal care, wherever they are.
Deliver the Cisco TelePresence experience throughout your organization with streaming services from Cisco and our partners.
Extend the lifelike Cisco TelePresence meeting experience to Cisco WebEx users anywhere.
Managed and Hosted TelePresence
Use managed and hosted cloud services to easily connect with customers, prospects, partners, and remote or traveling team members.
Cost-effectively simplify and scale your Cisco TelePresence deployment with fully or partially managed services.
Find a Service Provider
Become a Service Provider
Use the power of the network to help securely bring customers, suppliers, or partners face-to-face around a single virtual table anytime.
Understand Inter-Provider TelePresence
Read Solution Overview (PDF - 239 KB)
Take advantage of advanced services to plan and remotely manage your Cisco TelePresence deployment.
Find a Provider
Managed Service Options
Connect with remote or traveling coworkers, customers, and business partners at public locations.
Why Cisco Public TelePresence?
Find Locations