TelePresence Benefits
Be More Productive
Be More Productive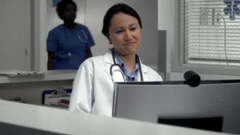 TelePresence can help everyone, everywhere be more productive. (1:28 min)
Viewing this embedded video requires the latest version of Adobe Flash Player with JavaScript enabled.
Get the Flash Player
Use the Power of In-Person Collaboration
How do you promote bigger ideas and better innovation? Make it easy for your experts to put their heads together. Cisco TelePresence offers the easiest, most dynamic way for dispersed teams to get together. It's where talent and technology meet.
See Cisco TelePresence and explore the benefits for yourself.
Not only can you bring experts together to solve problems on the fly, but you can also use the power of TelePresence to unify your supply chain, provide highly engaged customer service, train remote teams, and more. Think beyond the boardroom. Transform your business processes with Cisco TelePresence.
Make the Best Use of Employee Time
Frequent video participants report saving at least two hours weekly, with one-third reporting at least one day saved per week. These participants report that telepresence solutions help them save money, improve work-life balance, increase their competitive advantage, and bring people closer together.
Speed Decision Making
Accelerate business-critical decision making, shorten sales cycles, reduce time to market, and create new forums for collaboration.
Cut Travel Costs
Many customers reduce their business travel by 30 percent or more when implementing TelePresence. In fact, the cost of two international business trips will pay for a video conferencing system. Trygvesta, a large Nordic insurance company with 2 million customers, reduced travel from 180 to 130 trips per month, saving at least $120,000.
Consider the Opportunity Costs
The true cost of travel is not just a plane ticket and hotel. Time on the road could be spent being more productive, bringing new products to market, reducing repair time, or meeting with more clients. Use the Business Advantage Calculator to see how video can benefit your business in particular.
Transform Business Processes
TelePresence makes it easy for teams to collaborate, innovate, and resolve issues. Now you can bring those benefits to customer service, supply chain management, and training; redefine best practices; and accelerate ROI even more.
Be Greener
Here is another way to reduce CO2 emissions: 100 employees using video once a week instead of commuting would save the equivalent of a forest the size of five football fields.
How to Get Started
We can help you select the right applications and solutions to support your specific business strategy and business models. Cisco can also work with your IT staff to set up pilot programs within important departments. You will be making a transformation to the new way to work on a foundation of quality, reliability, and interoperability across industry standards.
New Cisco TelePresence Site
Learn how telepresence transforms business at this site designed for you.
Explore Now