Protect Your Contact Centers
Explore new voice network threats and how to prevent attacks on your network.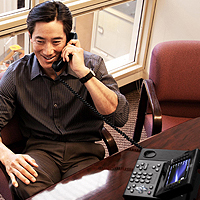 All Customer Collaboration Products
Customer care creates the foundation for positive customer service, a key factor in building a stronger business.
All Customer Collaboration Products
Cisco Customer Collaboration Products
Cisco Unified Voice Self-Service Products
Collaborate with Your Customers
Customer Collaboration Solutions help create the foundation for positive customer service, a primary factor in building a stronger business. Cisco Customer Care products can help you:
Escape from the largely reactive mode of traditional call centers and engage more proactively with your customers
Promote true customer intimacy, satisfaction, and loyalty
Connect people with the information, expertise, and support they need when and where they need it most
Transform customer care from simple phone transactions to unique, rich collaboration experiences that can be customized to meet the needs of individual customers. Cisco Customer Collaboration Solutions and products help your business in four critical ways:
Build Competitive Advantage
Use voice, web, email, video, chat, analytics, and social media to personalize customer service.
Accelerate Time To Resolution
Advanced communications help agents quickly identify and resolve potential problems.
Enhance Customer Satisfaction
Help customers quickly access agent assistance.
Increase Revenue Opportunities
Create more productive sales opportunities.
At a Glance
Collaborate with Confidence
Cisco Collaboration Solutions can help you address today's business challenges and build competitive advantage by:
Transforming business interactions with real-time voice and video communications
Quickly forming dynamic teams to make better decisions, faster, regardless of location
Increasing customer responsiveness with instant access to company experts
Securely connecting, communicating, and collaborating across traditional corporate boundaries
Face Today's Business Challenges
The nature of work is changing rapidly. Multiple trends are changing the way that people interact and do business, including:
More mobile, dispersed workforces
An explosion in content and devices
More cross-organizational teaming and processes
Proliferation of video communications
Social software being used at work
Prepare for the next breakthroughs in innovation and efficiency. It's time to embrace these new trends, actively engaging employees, partners, and customers to work more closely together, anytime, anywhere, in a more natural and integrated way.
Learn More (PDF - 259 KB)
Related Links
Featured Case Study
Retailer Adds Contact Center Flexibility
Learn how 1-800 CONTACTS uses Unified Contact Center Enterprise: a single queue handles inbound calls, emails, and outbound calls to verify contact lens prescriptions.
All Case Studies | Read Featured Study (PDF - 174 KB)
Manufacturer Moves Ideas Instead of People
Discover how Biesse America uses unified communications to reduce travel, get answers faster, and gain a competitive advantage.
All Case Studies | Read Featured Study (PDF - 142 KB)
Mobile Service Provides Voice Self-Service
Learn why IDEA Cellular Ltd. shifted two million daily calls from live agents to a self-service voice portal.
All Case Studies | Read Featured Study (PDF - 242 KB)
For Partners
Log in to access tools and resources specifically designed for Partners.
Contact Center Productivity and the Virtual Desktop
Close
Viewing this video requires the latest version of Adobe Flash Player with JavaScript enabled.
Improve Customer Collaboration
Close
Viewing this video requires the latest version of Adobe Flash Player with JavaScript enabled.
Cisco Unified Contact Center Products

Cisco Unified Contact Center Products (continued)

Cisco Unified Voice Self-Service Products