Connect to Oil and Gas Fields
Converge, connect, and protect the security infrastructure of your oil and gas company.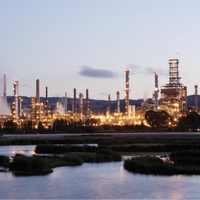 Stay Connected with Outdoor Wireless
Outdoor wireless networks deliver real-time access to people, applications, and network resources, transforming down-time into productive time.
Rugged (IP67 rated) access point for outdoor deployment with a model available for hazardous locations (Class 1 Div2/Zone)
Based on 802.11n, includes 2x3 multiple input and multiple output (MIMO) with two spatial streams
Versatile backhaul options including Ethernet, wireless, fiber, or cable plant
Cisco CleanAir technology for proactive interference protection

Hazardous location rated, rugged (IP67 rated) access point for outdoor deployment
Based on 802.11n, includes 2x3 MIMO with two spatial streams and integrated ISA100.11a backbone router for sensor networks
Designed for one-box solution for Wi-Fi client and sensors device access in industrial applications
Key component in the integrated solution comprising Cisco WLAN and Honeywell OneWireless architectures
Cisco Aironet Outdoor access points can be deployed in a variety of demanding environments. To help ensure an exceptional user experience on the wireless network, these access points provide a variety of capabilities, including:
Cisco CleanAir Technology for a self-healing, self-optimizing network that avoids RF interference
Cisco ClientLink 2.0 to improve reliability and coverage for existing clients
Cisco BandSelect to improve 5 GHz client connections in mixed client environments
Cisco VideoStream, which uses multicast to improve multimedia applications
Whether you need a multilevel mesh network, flexible options such as fiber-based backhaul, or even deployment in hazardous locations, the extensive Cisco Aironet 1550 Series product portfolio can provide a high-performance access point to meet your rugged outdoor requirements.
Find News, Facts, Blogs, and Tweets
Follow Cisco on social media for all the information you need.
Get Updates