Deploy a Private or Hybrid Cloud with Self-Service
After Cisco's recent acquisition of newScale, you can now deploy Cisco Cloud Portal. This unified self-service IT portal facilitates on-demand provisioning for private or hybrid cloud computing.
In most IT organizations, the process for data center application and infrastructure service requests is complex and expensive. Each request is often treated as a separate project, requiring approvals and exceptions. The result is a time-consuming and inefficient series of manual steps, involving requirements validation and architecture reviews.
This process can:
Take several weeks, creating long cycle times
Exacerbate tension between application development and data center teams
Result in costly delays for new projects and business initiatives
The new Cisco Cloud Portal helps your IT organization:
Encourage adoption of standardized options with a menu in an online catalog
Deploy an internal private cloud and govern public cloud usage with a self-service portal
Manage the lifecycle of services and monitor consumption for pay-per-use tracking
Improve visibility into demand to help ensure more accurate capacity planning
With Cisco Cloud Portal, application and infrastructure requests can be processed in hours or even minutes, instead of weeks. The greater transparency and control help both your IT staff and users track and manage the lifecycle of a service, from initial request to decommissioning. You get greater agility, speed, and efficiency for your next-generation data center.
An integral component of the Cisco Intelligent Automation for Cloud solution, Cisco Cloud Portal also includes advanced capabilities for orchestration and automated provisioning of physical and virtual infrastructure resources.
Featured Content
Learn Key Requirements for a Private Cloud
IDC explores the impact of cloud computing and highlights the attributes that you should consider when evaluating solutions.
Research: Building Blocks for a Private Cloud
Learn about the maturity model and requirements for a private cloud, with research by IT analysts at Enterprise Management Associates.
Learn How to Build a Private Cloud
View this on-demand web seminar for a live demo of an operational private cloud, focusing on the service catalog and self-service portal.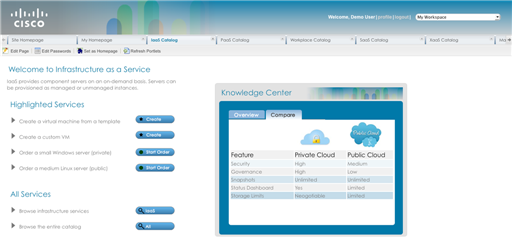 See enlarged version Cisco Cloud Portal
Cisco Cloud Portal
Close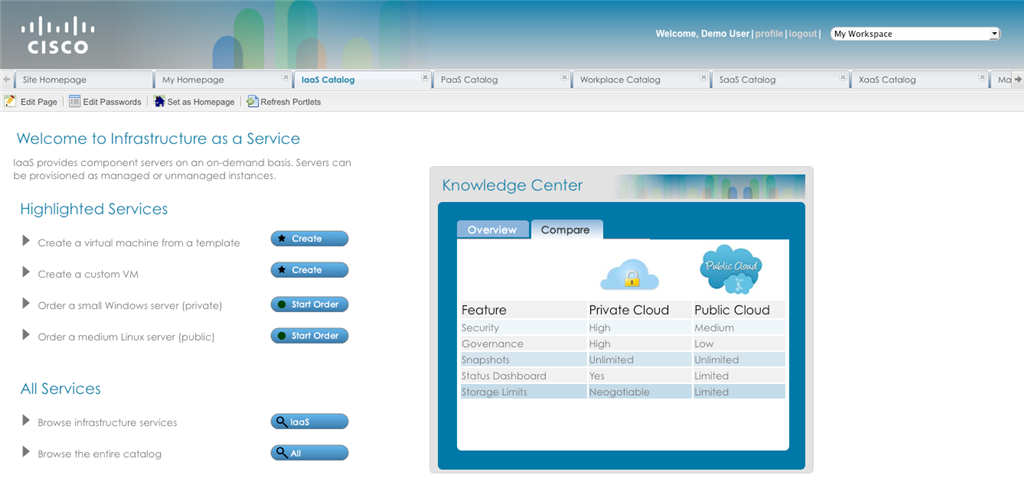 Additional Resources