Get TV on Any Screen
Let viewers find and enjoy the content they love on any device, in any location.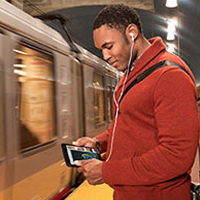 Video You Love, On Any Screen
The Cisco Videoscape Video Everywhere Offer is the ideal platform for launching new multiscreen experiences beyond the set-top box (STB). It also serves as a foundation for the next generation of video experiences, which are personalized, synchronized, and social across screens.
With the Cisco Videoscape Video Everywhere Offer, your customers can discover and watch live and on-demand content on any connected device, anywhere. Combining the best of Cisco and NDS world-leading TV Everywhere solutions, Video Everywhere provides industry-leading multiplatform security technology to provide the critical end-to-end content protection you need to monetize premium content and services across multiple screens. Video Everywhere also provides best-in-class content management and user interface capabilities to enable consistent and synchronized experiences across all your subscribers' devices.
With Video Everywhere, your customers can:
Watch live, on-demand, and time-shifted video content on any device, any time, in any place
Easily find content with unified search and recommendations across all content sources
Receive dynamic contextual content and advertising on companion screens
Use social TV apps to share and recommend content with friends
At the same time, your business can:
Improve subscriber loyalty by extending services to connected devices
Speed time to market with an easy-to-deploy solution and cloud capabilities
Assure high quality even over unmanaged networks and devices
Protect your investment with an open platform to extend existing pay TV services with next-generation video experiences
To learn more, read the solution overview , "Cisco Videoscape Unity: Connecting Experiences. Your Way."