Access TV Anytime, Anywhere
Let viewers catch their favorite shows whenever and however they choose.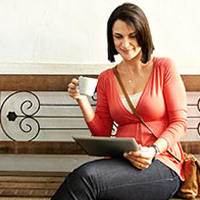 Enjoy TV Your Way
Consumers want the freedom and flexibility to arrange their TV viewing around their own schedules, inside or outside the home. With the Cisco Videoscape Multiscreen Cloud DVR Offer, viewers can restart live shows, catch up on their favorite past programs, and schedule and play back video recordings from any device, anywhere.
Multiscreen Cloud DVR combines the best of both set-top-box (STB) DVR and cloud-based time-shift capabilities. It lets you extend network-based time-shift TV services to customer STBs, including restarting a live program from the beginning, navigating backwards in the program guide to find past content, and more. And, it enables cloud-based recording scheduling and playback on any connected device.
With Multiscreen Cloud DVR, your subscribers can:
Play back their favorite shows on any device, anytime, anywhere
Capture and manage recordings in the cloud, and play back on any device
Pause and resume content from a companion device for total viewing control
Restart live programs, navigate backwards on program guides to watch content, and pause live TV-on the STB or any connected device
Seamlessly switch between content stored in the home DVR and in the cloud
At the same time, Multiscreen Cloud DVR helps you to:
Grow your subscriber base and keep loyal customers satisfied with new video experiences
Remotely extend DVR services to your entire customer base without upgrading their hardware
Augment home DVRs with additional storage capacity in the cloud
Upsell higher service tiers with more storage capacity and more simultaneous recordings
Build a foundational infrastructure that will support advanced IP applications and services in the future
The Cisco Videoscape Multiscreen Cloud DVR Offer includes the Cisco Videoscape Security Suite, which provides vital content security and authentication across all screens and devices.
The Cisco Videoscape Multiscreen DVR Offer delivers a complete, end-to-end solution to optimize and secure content stored both in the local set-top DVR and the cloud to maximize subscriber viewing choice across devices.
To learn more, read the solution overview, "Cisco Videoscape Unity: Connecting Experiences. Your Way"