BYOD for K-12 Education
Gain anywhere, anytime learning with Cisco K-12 Education BYOD Solutions.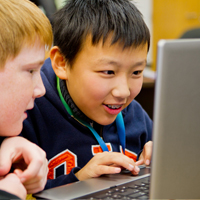 BYOD for K-12 Education
The bring-your-own-device (BYOD) trend is affecting businesses of all sizes. Employees want a consistent connection over their smartphone, laptop, or tablet at their desk or in a conference room. Businesses are reducing overall cellular costs by using their Wi-Fi networks. So IT managers need to provide reliable, high-performance, in-building wireless coverage while maintaining operational efficiency.
Your medium-sized business can meet these challenges with Cisco Midmarket Mobility Solutions. These solutions provide affordable, reliable, high-performance, 802.11n access points with flexible centralized wireless network control and visibility deployments.
Deploy autonomous access points to obtain pervasive wireless coverage and increase employee productivity with consistent, reliable connections while roaming from hallway to conference room to desk. Grow into the visibility and control mode while delivering enterprise-class performance for the medium-sized business.
Cisco solutions are designed with the flexibility to grow as your business grows. Find out how you can support the best possible BYOD experience for the medium-sized business.
Cisco Aironet 2600 Series Access Point:
Delivers affordable, high-performance 802.11n technology compatible with 802.11a/b/g clients
Increases bandwidth and performance with a reliable design for maximum uptime
Offers greater range and reliability with 802.11n 3x4 MIMO technology with three spatial streams to sustain 450 Mbps rates
Offers optimized downlink performance with Cisco ClientLink 2.0, increased range on mobile devices, and better battery life
Cisco Aironet 1600 Series Access Point:
Delivers affordable, high-performance wireless access based on enterprise-class 802.11n technology
Includes Cisco CleanAir technology and 3x3 MIMO technology with two spatial streams
Provides efficient wireless coverage through ClientLink 2.0, spectrum intelligence, and Cisco VideoStream technology
Cisco Virtual Wireless LAN Controller:
Facilitates server consolidation and optimization
Remotely configures, manages, and troubleshoots the performance of local and branch wireless networks
Cisco 2504 Series Wireless LAN Controller:
Helps you manage smaller-scale wireless networks
Provides 802.11n performance and scalability at an attractive entry-level price
Simplifies the deployment and operation of wireless networks
Cisco Prime Infrastructure 2.0 - 25-Device License
Gain deep visibility into end-user connectivity and application performance
Get network performance monitoring and troubleshooting for optimal network efficiency
Complete lifecycle management preempts network performance degradation
Best practice and automated workflows accelerate time to value, minimize disruption, and reduce operational overhead
BYOD Made Simple
Cisco entry-level Aironet series access points and wireless controllers provide a cost-effective solution without compromising user experience.
High-Performance Network
Enterprise-class chipsets and optimized radios deliver a robust mobility experience. Optimized antennas and radios that deliver powerful mobility with 802.11n performance help ensure a better user experience along with a more efficient, higher performing network.
Proven Quality and Reliability
Automated self-healing reduces dead spots and maintains client connections. Cisco wireless products and technologies excel in innovation and development and currently have the industry's largest installed base.
Grow as You Go
Cisco offers a broad portfolio of access points targeted to the specific needs of all industries, business types, and topologies. Get the flexibility to grow with added wireless controllers for easier network operation, rogue detection, and centralized control.
Centralized Visibility
Visibly know the network and how users are utilizing business applications. Manage end-user connectivity and application performance over any device, anytime.
These high performance 802.11n access points offer a simple upgrade to the controller architecture. Providing quality and reliability, they are designed to increase uptime to help ensure reduction in troubleshooting risks. The Aironet 2600 Series offers a simple upgrade to your controller architecture.
These affordable 802.11n access points offer the quality and reliability for maximum uptime, helping to reduce troubleshooting risks. They are ideal for improving in-building mobility. The Aironet 1600 Series can modernize your wireless network to accommodate surges in clients, applications, and bandwidth demands.
The Cisco Virtual Wireless LAN Controller consolidates your virtualized infrastructure for operational efficiency. It can co-reside with other virtualized network services, such as Cisco Prime Infrastructure and Cisco Identity Services Engine. Remove hardware dependencies to easily scale and deploy new wireless services, and remotely control your wireless network in a centralized, highly secure fashion.
This affordable controller manages the wireless functions in your small to medium-sized business. It helps Cisco Aironet access points communicate in real time to simplify the deployment and operation of wireless networks. By centralizing control of access points, it can lower total cost of ownership and scale as your network requirements grow.
This midmarket-specific component offers one management for your wired and wireless network. Take full advantage of Cisco Prime Infrastructure to centralize your network visibility and optimize business application performance.
The Cisco Meraki Cloud Managed edge and branch wireless solutions simplify midmarket networking. Wireless networks are centrally managed from the cloud, giving administrators visibility and control without the cost and complexity of traditional architectures.
Midmarket Deployment Modes
Cisco offers the autonomous access point mode for business-class pervasive wireless coverage. Midmarket Deployment Modes offer affordable and competitively priced solutions using the quality and reliability expected from Cisco to deliver maximum uptime and reduce troubleshooting risks.
The visibility and control mode is for higher-end midmarket companies, which require network insight and value operational efficiency. Centralized control offers simplified operations, agile service deployment, and granular network scale. Centralized visibility offers end-to-end application performance monitoring and trouble shooting for optimal network efficiency.
For Partners
Log in to access tools and resources specifically designed for Channel Partners who want to get the most out of the Cisco Midmarket Mobility Solutions.
Simple, Affordable BYOD
Viewing this video requires the latest version of Adobe Flash Player with JavaScript enabled.
High-Quality Wireless Experience
Viewing this video requires the latest version of Adobe Flash Player with JavaScript enabled.
Virtualizing Midsize Wireless Network Control
Viewing this video requires the latest version of Adobe Flash Player with JavaScript enabled.
At-a-Glance
(1)
Cisco Mobility Solutions for the Medium-Sized Business
(PDF - 620 KB)
Relevant Products
Find details about hardware devices, software applications, and specialized components that relate to your networking solution.