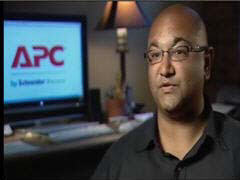 APC|Cisco Partnership Video
APC and Cisco discuss their strategic partnership and how each other's strengths compliment one another to provide a perfect end to end solution.
» Watch Now (Video - 8:01 min)
APC by Schneider Electric, a global leader in critical power and cooling services for the data center, collaborates with Cisco on solutions to enable advanced data center technologies. To simplify your data center transformation, you can now deploy APC physical infrastructure solutions and Cisco intelligent networking products together.
Built on APC InfraStruXure architecture, these solutions are easily scalable and standardized to meet changing business needs and future expansion. This approach provides IT environments with:
Increased availability
Improved adaptability
Faster deployment
Lower total cost of ownership (TCO)
Relevant Products
Find details about hardware devices, software applications, and specialized components that relate to your networking solution.