Evolving to a Unified Data Center Architecture
Today's data center architecture must support a highly-mobile workforce, proliferation of devices, data-driven business models, and be capable of seamlessly incorporating cloud applications and services. To meet these diverse requirements, Cisco offers the Unified Data Center platform, a unified data center architecture that combines compute, storage, network and management into a platform designed to automate IT as a service across physical and virtual environments, resulting in increased budget efficiency, more agile business responsiveness, and simplified IT operations.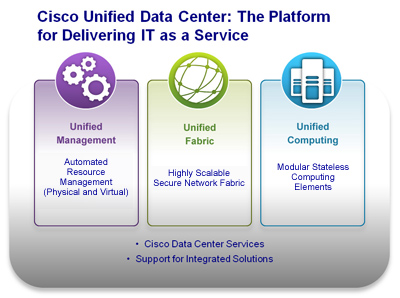 Cisco's Unified Data Center provides a complete architecture platform including products and solutions in three critical areas:
The Unified Management component of Cisco's data center architecture features automation, orchestration, and lifecycle management to simplify deployment and operation of physical/bare metal, virtual, and cloud infrastructure. Cisco assists IT departments with developing a self-service portal and service catalog to quickly deliver on-demand IT services to support business initiatives.
The Unified Fabric component of Cisco's data center architecture delivers high-performance data and storage networking to simplify deployment, help ensure quality of experience, and reduce operating costs. Cisco's integrated network services provide high-speed connectivity and high-availability, increase application performance, and reduce security risk in multi-tenant environments.
Cisco Unified Computing System (UCS) anchors the Cisco data center architecture with a highly-scalable, system-level computing solution that integrates computing, access networking, and storage networking. Embedded management capabilities simplify operations across physical, virtual, and cloud infrastructure.
Smart, personalized services from Cisco and our authorized partners help you realize the full value of your data center investment.
Integrated Solutions
Cisco Unified Data Center is the optimum platform for Cisco Hosted Collaboration solutions and the foundation of pretested and pre-configured solution stacks such as Flex Pod and Vblock Infrastructure Platforms. Open standards and APIs allow for integration and management of hardware and software solutions from Cisco ecosystem partners, providing flexibility to data center architecture.
Cisco's Unique Value
Cisco avoids the complexity of a converged infrastructure through an innovative data center architecture designed specifically to support virtualization in the data center. Cisco Unified Data Center provides:
Outstanding performance across physical and virtualized resources
Cost efficiency through elimination of silos and simplification of deployment and operating tasks
Fast deployment of a highly secure, proven infrastructure to support new business initiatives
A broad range of storage, virtualization, application, and management alliance partners
The Unified Data Center also offers a flexible and open data center architecture that will support legacy infrastructure components, as well as delivery of IT-as-a-Service and cloud services.
Enhance IT Agility
Respond more quickly to changing business demands with Unified Computing.
Get Details
Demand a Better Return on IT
Learn how Cisco Unified Data Center can promote innovation in your organization.
Get Customized White Paper
Support Converged Infrastructure
Increase efficiency and scale with Unified Fabric.
Find Out How
Automate for Operational Efficiency
Simplify deployment of IT infrastructure and services with Unified Management.
Read More Information
Delivering Fabric-based Infrastructures
Learn how Unified Data Center delivers a fabric within and between data centers.