Financial Impact of BYOD
Discover six key factors that deliver increased savings and productivity.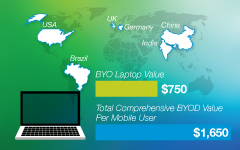 Mobility is a much-discussed topic these days, and for good reason. From security concerns to device management, there is much global dialogue on what's important for you to know as a business leader navigating today's technology. We focus here on some of the most important conversation pieces, such as emerging experiences and new revenue models.
Future of Mobility

The right mobile framework eases IT challenges and enables self-service.

See how MGM gets closer to its customers with connected mobile experiences. (2:39 min)

The future is here and service providers are ready. Learn more. (3:16 min)
Implementing Mobility
Implement custom mobility strategies aligned to your business priorities.
Let us assess your mobility strategy and identify opportunities.
Cisco Capital financing helps you invest today in mobility capabilities.
The Proliferation of Devices
Close
Viewing this video requires the latest version of Adobe Flash Player with JavaScript enabled.
Executive Connection

shares this book with her team, "Thinking Fast and Slow."

Cisco Futurist, Dave Evans cites these sites and blogs as must-reads:, Engadget, Reddit Tehnology, Phys.org

Distinguished Cisco Fellow, Mark Townsley recommends this TED talk: Adam Spencer: Why I fell in love with monster prime numbers
Subscribe to the
Cisco Mobility Blog