Communicate Flexibly and Effectively
Help enable comprehensive and effective collaborative experiences.
Accelerate Collaboration in the Cloud
Empower employees to engage and innovate by collaborating in the cloud. (2:08 min)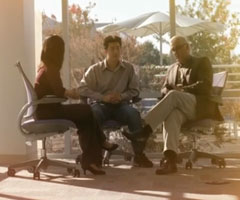 BYOD Challenge is here to test your knowledge!
Think you know mobility and BYOD? Prove yourself and you could win a trip to the London 2012 Olympic Games!
Make the Best Choice
Learn 10 ways unified communications solutions differ. (PDF - 275 KB)
Read Report
Enhanced Communication
See how organizations use unified communications solutions to improve collaboration.
Read Case Studies
Improve Your Cloud Advantage
Business leaders surveyed by Forbes Insight identify benefits of cloud collaboration.
Download White Paper