Orchestration for the Unified Data Center
See how to provide a wide range of IT services with breakthrough speed and efficiency.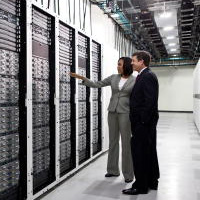 Cloud Orchestration with BMC CLM
Cloud Orchestration Systems Diagram
Learn about this joint system architecture, components, and features.
Learn More
Accelerate deployment of your data center resources. Cisco Cloud Orchestration with BMC Cloud Lifecycle Manager (CLM) can support new business requirements, including:
Flexible multi-zone network containers
Service catalogs
Policy-based management of data center resources
Cisco has defined requirements and led joint development and validation activities with BMC to deliver new functionalities for service providers, large enterprises, and large public sector organizations. The joint solution:
Offers an end-to-end, standards-based platform for consolidating, virtualizing, and automating resources.
Helps accelerate business time-to-market in an efficient and cost-effective manner.
Constructs infrastructure-as-a-service (IaaS) offerings in a modular fashion on top of a proven orchestration platform.
The Cloud Orchestration with BMC CLM system provides the following capabilities.
Network blueprint: Segment and differentiate services with secure network containers based on static services model or a more dynamic runtime-defined model.
Service blueprint: Gain the flexibility to create and deploy of single and multi-tier cloud services with configurable options.
Service governor: Intelligently allocate resources based on policies.
Compliance and governance: Facilitate chargeback billing and auditing with access to (CMDB).
For Partners
Log in to access tools and resources specifically designed for Channel Partners who want to get the most out of the Cloud Orchestration with BMC CLM
Log In