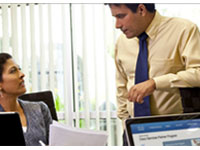 Create shared workspaces where virtual teams can interact on interdependent tasks, such as developing a new product.
Cisco WebEx Social facilitates the creation of shared virtual workspaces where people to collaborate more effectively both in real time and asynchronously. Cisco provides the broadest choice of communications options based on preference, location, and device, and facilitates integration of video to support new levels of teamwork.
See More Use Cases
Explore more ways to meet your business goals by improving collaboration.
Go Now
Benefits
Simplify traditionally time-intensive collaboration tasks using centralized, online meeting spaces.
Dynamically form global teams of experts who can collaborate with confidence.
Build trust and share information across distributed groups and geographies to speed business agility.
Flatten organizational hierarchy and better communicate with all levels of the organization.
Enhance employee engagement, and promote highly secure communications with partners and customers.
Proof Points
About 63 percent of CEOs feel that a collaborative environment draws out the best from their workforces. (Source: IBM)
Social technologies can raise productivity of high-skill knowledge workers by 20 to 25 percent. (Source: McKinsey Global Institute)
Thirty percent of organizations interviewed found that use of web-based collaboration technologies increased number of successful innovations for new products of services. (McKinsey)
In a customer-support community, the cost per contact is more than 90 percent lower than the cost per call to a call center. (Source: McKinsey)
Primary Products for Use Case

Recommended for Best Practices
Flexible search options in Cisco WebEx Social help avodaqAG's sales and service center employees quickly find information about a project, improving productivity, efficiency, and response times.
"Fiscal-year planning takes 30 percent less of our senior managers' time now that we use Cisco WebEx Social instead of SharePoint and email..." —Ajay Deshpande, Persistent Systems
"The collaborative communities in Cisco WebEx Social helped us warehouse our intellectual capital and encourage lawyers to share their know-how with colleagues." —Paul Kallenbach, Minter Ellison
Financial Services
ANZ Enhances Private Banking
ANZ Private and ANZ Trustees use innovative technology to deliver unique and superior service to clients who can now access experts located nationwide and globally.
Manufacturing
Improve team and customer experiences with services from Cisco and its partners. Align your IT objectives with business goals, mitigate risk with faster time to value, and better serve your customers.