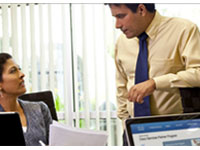 Create shared workspaces where teams can interact virtually on interdependent tasks, such as developing a new product.
Cisco provides a broad choice of communications options, based on preference, location, and device. Our products also facilitate video integration to support new levels of teamwork.
See More Use Cases
Explore more ways to meet your business goals by improving collaboration.
Go Now
Benefits
Social technologies promote traditional team interaction with the scale and speed of the Internet.
Simplify traditionally time-intensive collaboration tasks by using centralized, online meeting spaces
Dynamically form global teams of experts who can collaborate with confidence
Build trust and share information across distributed groups and geographies to speed business agility
Flatten organizational hierarchy and better communicate with all levels of the organization
Proof Points
70 percent of best-in-class organizations maintain internal communities to support sharing of key customer data. (Source: Aberdeen Group)
Two-thirds of value creation from social technologies comes from improving communications and collaboration within and across enterprises. (Source: McKinsey Global Institute)
Nearly 50 percent of an employee's impact on business unit profitability comes from the ability to help others and be helped by others. (Source: Corporate Executive Board)
About 63 percent of CEOs believe that a collaborative environment draws out the best from their staff. (Source: IBM)
Social technologies can raise productivity of high-skill knowledge workers by 20 to 25 percent. (Source: McKinsey Global Institute)
Primary Products for Use Case

Recommended for Best Practices

Optional

Hosted Solutions
"In our biannual surveys, after we introduced WebEx Social, we saw the largest-ever increase in employee engagement for those people involved in the pilot. Cisco WebEx Meetings has also increased engagement by letting employees see each other face-to-face." —Leon Benjamin, Virgin Media
Flexible search options in Cisco WebEx Social enable avodaqAG's sales and service center employees to quickly find information about a project, improving productivity, efficiency, and response times.
Dynamic Access to Distributed Expertise (PDF - 565 KB)
Read real-world examples of expert collaboration, including a case study and specific implementation recommendations for top management..
Active Collaboration Room (PDF - 5.9 MB)
Learn about enhancing business models by improving collaboration among distributed teams.
Improve team and customer experiences with services from Cisco and its partners. Align your IT objectives with business goals, mitigate risk with faster time to value, and better serve your customers: